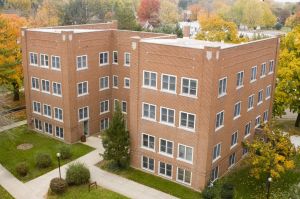 This hall is designed for juniors and seniors to live as part of our Small Group Housing program. Coffman Hall features six small group housing units, including two that are eligible as a coed living option. Originally constructed in 1929, Coffman has been recently renovated into air conditioned small group living units, equipped with a kitchen, lounge and newly tiled restroom. Hardwood floors were exposed in the kitchens; lounges, hallways and bedrooms are carpeted. Windows have miniblinds. Laundry, lounge and storage facilities are located in the basement. Prayer and Spiritual Direction rooms are part of the Quiet Place also housed on the lower level. Coffman Hall was the site of a shirt factory in the 1930s during the Depression Era. Students sewed shirts in the basement during their free time to help pay for their college costs. Legend has it that one student worked so many hours in the shirt factory that when he graduated, the college owed him money.
For many years, the small group housing option (now offered in Coffman Hall) has been a valuable part of the student life experience for Goshen College students. The report, "Experiment in Living" (1969-70), outlined a number of outcomes for students living together in small group housing. SGH offered a setting to foster closer and more caring relationships, to allow students to exercise more responsibility for their decisions…by taking seriously the implication of commitment to one another. Community standards and discipline would be developed in the context of the small group, calling for participation to 'confront the ultimate issues' of life together (p. 1).
Floor Plans
Visit the
Small Group Housing
page for more information and a video tour of Coffman's Small Group Housing Units.