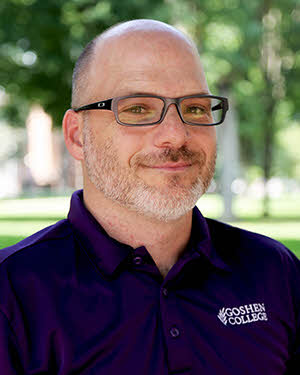 Chad Coleman
Director of Campus Safety & Housing Operations
Chad came to Goshen College in 2002 and served six years as a Resident Director in Yoder Hall. He managed Small Group Housing, Kulp Hall, and Coffman Hall from 2008-2011 before becoming Director of Residence Life from August 2011. Chad received his undergraduate degree from Indiana University (Bloomington) and a Masters Degree from Gonzaga University. In December of 2016, Chad became Director of Campus Safety, but also, continues to provide leadership for the Residence Life team by maintaining oversight of campus housing operations.
Emily Hahn
Residence Life Coordinator
Emily Hahn provides live-in leadership for our upperclassmen residence halls, houses, and apartments. This includes oversight of our Student Apartments, Intentional Living Community houses, and Kulp Hall. Originally from Toledo, Ohio, Emily moved to Indiana to attend Huntington University, where she graduated with a Bachelor of Arts in Psychology and Sociology in 2015. While at Huntington University, Emily served as a Resident Assistant, Student Government Representative, and Admissions Counselor. Emily is passionate about Residence Life because she believes that it is a safe community for students to explore and develop into the person they are going to be while building incredible friendships in the process. In her free time, Emily enjoys spending time with her husband and pursuing a simple lifestyle surrounded by friends, the great outdoors, and good food.
Kali Miller
Residence Life Coordinator
Kali Miller provides live-in leadership for our underclassmen residence halls (Kratz, Miller, and Yoder).  Kali is a 2015 graduate of Grace College, with a B.S. in History and Sociology and earned a Master's Degree in Higher Education Administration (also from Grace College) in 2016. While finishing her graduate degree she worked at Pierceton Woods Academy, a residential home and alternative school for boys.  Kali enters her second year in Residence Life at Goshen College and looks forward to building community within the residence halls, allowing students to experience growth in all areas of life. Kali enjoys meeting new people, watching documentaries, kayaking, and playing Mario Kart. 
Valentin Calvillo
Student Assistant – Residence Life Coordinator
Valentin is a fourth year student at Goshen College studying biochemistry as a pre-med major from Goshen, Indiana. In his third year working in Residence Life, the first two as a Resident Assistant, he enjoys and is looking forward to forming relationships with his first and second year students living in Kratz and Yoder Hall. Valentin will assist Kali Miller in the day-to-day operations of our underclassmen residence halls in 2017-2018.
---
Resident Assistant Team 2017-2018
Luke Geiser
Resident Assistant – Yoder 1
Luke is a Biochemistry major with a minor in Sustainability from Indianapolis, IN. He is a member of the Symphony Orchestra, JV Men's Soccer, and Swing Dancing Club. He enjoys playing intramurals such as soccer, basketball, and volleyball, going on bike rides, making art and reading the New York Times/Wall Street Journal. He plans on starting a volleyball club in the fall and tutoring General Chemistry.

Bryce Stopher
Resident Assistant – Yoder 2 North
Bryce is a Biology major, no minor, from Goshen Indiana, involved in Ecopax, and composting at the Westlawn Dining Hall. He enjoys the college's welcoming atmosphere, and diverse community
Tyler Lautenschleger
Resident Assistant – Yoder 2 South
Tyler is a Chemistry major from Three Rivers, MI. He is involved with research at the science building and other small groups around campus. He enjoys making new friends and meeting different people. Tyler enjoys the smaller community Goshen offers and loves the diversity of everyone on campus. He looks forward to building a strong community on his floor while making new friends.
Lourdes Resendiz
Resident Assistant – Yoder 3 South
Lourdes is an Accounting major with a Business minor from Goshen, IN. She is a leader for Latino Student Union club at Goshen College. Lourdes loves spending time with family and friends. Her faith is an important part of her life. She is excited to build a positive and welcoming atmosphere on Yoder 3 south.
Chelsea Foster
Resident Assistant – Yoder 3 North
Chelsea Foster is from Indianapolis, IN. She is currently an english major but more than likely will be switching to history in the coming future. She is involved with cross country and track at Goshen and works at the CCYC on campus. She truly enjoys talking to people, playing with dogs, and eating food.
Nasim Rasoulipour
Resident Assistant – Yoder 4 North
Nasim Fatemeh Rasoulipour is an international student from Tehran, Iran. She is majoring in communication and minoring in business. Nasim is currently a member os International Student Club (ISC) and Latino Student Union (LSU). Nasim is passionate about making new friends and can't wait to welcome new students to this campus.
Christine Morick
Resident Assistant – Yoder 4 South
Christine is a second year American Sign Language Interpreting major with minors in Pre-Law and Political Sciences from Angola, Indiana. Here at Goshen College she is involved in ASL Club, Knitting Club, and Prism. Her favorite part about campus is the welcoming and inclusive atmosphere. She enjoys making new friends and aspires to inspire those living both on and off her floor!
Sandra Rodriguez
Resident Assistant – Kratz 1
Sandra is Physics/ Engineering major, but might possibly switch her major in the future. She is apart of SALT and has met amazing peers because of it, and she also takes part in the Goshen College softball team. She is very friendly and loves to meet new people and is excited to make new friends.
Brandy Lowe
Resident Assistant – Kratz 2
Brandy is an American Sign Language Interpreting major with a Pre-Law minor from Angola, Indiana. She is also involved in the ASL Club here at Goshen College. She loves to meet new people and loves to make everyone feel welcome here on campus. She is excited to bring positivity to her hall.
Elijah Lora
Resident Assistant – Kratz 3
Elijah Lora is a History major from Goshen, Indiana minoring in Political Studies, Pre-Law, and Philosophy. He is a part of Student Senate and Choir, and leads LSU(Latino Student Union) and Unity(Bible study), and is the RA for Kratz 3. Elijah loves music, conversations, and laughter. He looks forward to getting to make even more friends and helping them develop their gifts. Elijah is invested in helping to promote and atmosphere of friendship and openness on campus, and is passionate about promoting the diverse cultures represented on the Goshen campus. He can't wait . to help others get accustomed to the wonderful atmosphere here at GC!
Ryan Miller
Resident Assistant – Kratz 4
Ryan is an Accounting major with a Business minor from Normal, IL. He's involved with the Hymn Club and some of the Intramural Sports Leagues on campus. He enjoys meeting new people and is looking forward to creating new friendships with the people that will be on his floor and on the other floors. Ryan really likes how the Goshen Campus includes a large diverse group of people, but feels like one big community.