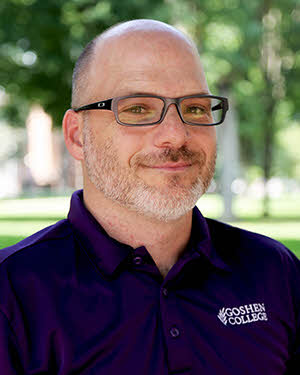 Chad Coleman
Director of Campus Safety & Housing Operations
Chad came to Goshen College in 2002 and served six years as a Resident Director in Yoder Hall. He managed Small Group Housing, Kulp Hall, and Coffman Hall from 2008-2011 before becoming Director of Residence Life from August 2011. Chad received his undergraduate degree from Indiana University (Bloomington) and a Masters Degree from Gonzaga University. In December of 2016 Chad became Director of Campus Safety, but also, continues to provide leadership for the Community Life team by maintaining oversight of campus housing operations.
Corie Steinke
Associate Director of Community Life
Corie Steinke provides live-in leadership for the Student Apartments, Campus Activities Council, and serves as the Commuter Student Advisor. Corie Steinke is a 2009 graduate from Heidelberg University with a B.A. in Religion and a 2012 graduate of Kent State University with a M.Ed. in Higher Education Administration and Student Personnel.  Originally from Ohio, Corie recently served as Civic Engagement Coordinator and Residence Director at Southern Vermont College in Bennington, Vermont.  Corie is driven to create a dynamic, memorable, and authentic experience for Goshen students through student activities, community engagement, and leadership development.  She loves pop culture and trivia, traveling, cooking, and all things comical.
Jason A. Mitchell, Ph.D.
Associate Director of Community Life
Dr. Mitchell provides live-in leadership for our underclassmen residence halls (Kratz, Miller, & Yoder) and also serves as Director of Intramural Sports. You'll also find "Dr. Mitch" in the classroom as one of our Goshen Core Curriculum professors. Dr. Mitchell was born and raised in Washington, D.C. and received his Bachelor's Degree in Business Administration from Elizabeth City State University (ECSU). While at ECSU he worked in the Department of Residence Life as a Resident Assistant.  After graduating, he continued his education by earning a Master's Degree in Communications from Regent University and a Doctorate of Philosophy in Education with a specialization in Leadership for Higher Education from Capella University. Prior to coming to Goshen College, he served as an Instructor of Digital Media for Wake County Public Schools and the Assistant Site & Educational Enrichment Coordinator for the YMCA.  Dr. Mitchell is driven to edify, develop and cultivate Goshen students through enriching experiences that leave indelible marks upon their lives. He enjoys cycling, traveling abroad and learning new cultures.
Kali Miller
Associate Director of Community Life
Kali Miller provides live-in co-leadership for our underclassmen residence halls (Kratz, Miller, and Yoder) and serves as Director of Kulp Hall and our Intentional Living Communities of East Hall, Kenwood House, and Howell House. Kali is a 2015 graduate of Grace College, with a B.S. in History and Sociology. After graduating she worked at Pierceton Woods Academy, a residential home and alternative school for boys, while finishing graduate school. Kali is also a 2016 graduate of Grace College, earning a M.S. in Higher Education degree. Kali is excited to join the Resident Life staff at Goshen and for the chance to create community within the residence halls that allows students to experience growth in all areas of life. Kali enjoys meeting new people, watching documentaries, kayaking, and playing Mario Kart. 
---
Resident Assistant Team 2016-2017
Alex Steiner
Resident Assistant – Yoder 1
Alex is a second year Physics and Biochemistry double major from West Liberty, Ohio.  He loves running and is a member of Goshen's Cross Country and Track teams.  He enjoys being part of the community of Goshen and looks forward to getting to know the new members of his floor.

Aidan Friesen
Resident Assistant – Yoder 2 North
Aidan Friesen is a sophomore studying Environmental Science with the Ecology track. He was born and raised in Goshen, Indiana. Aidan loves being apart of the choral ensembles, theater department, and intramural sports. He loves making friends with new people and getting to help people out. He is looking forward to being an RA next year so that he can provide community and a floor of new people, and help build relationships that will last for a long time. 
Nimoy Vaidya
Resident Assistant – Yoder 2 South
Nimoy is an International Student from Nepal. He is a Physic's Major with a Minor in Programming. He is also co-founder of the Breakdance Club on campus. Nimoy enjoys playing MOBAs and other strategy games and is looking forward to building community on Yoder 2 this year. 
Elsa Lantz
Resident Assistant – Yoder 3 North
Elsa is a second year TESOL and Writing major from Denver, CO. At Goshen, she likes writing for The Record and singing in the Women's World Music Choir. She loves the community that the college provides and looks forward to meeting everyone living on her floor! 
McKinzi Vega
Resident Assistant – Yoder 3 South
McKinzi is a second year biochemistry major from Las Vegas, Nevada. She appreciates Goshen's welcoming and helpful atmosphere. She is on the Women's Softball Team, but also participates in other clubs and activities that peak her interests. McKinzi looks forward to being a leader and helping other students adjust and enjoy campus life as she did. 
Meredith Satchwell
Resident Assistant – Yoder 4 North
Meredith is a second year Nursing major from Normal, Illinois. She has fallen in love with the warm and inviting atmosphere here at Goshen College. She is looking forward to welcoming new students to the Goshen family and can't wait to see what this next year brings! 
Mary O'Connell
Resident Assistant – Yoder 4 South
Mary O'Connell is a sophomore from Milton, Pennsylvania. She is double majoring in social work and American Sign Language. She has enjoyed her time at Goshen getting to know a diverse group of people and looks forward to participating in community building and formation this year in the residence halls.
Rae Ann Miller
Resident Assistant – Kratz 1
Rae Ann Miller is a math education major from Elkhart, Indiana. Along with being on the RA staff, she is a pitcher for the Goshen College softball team. Rae Ann loves making connections with others and getting to hear their stories. She feels as though being on the RA staff will allow her to get to know a wider variety of people on campus, specifically the incoming students. She can't wait to help others get accustomed to the wonderful atmosphere here at GC!
Alia Byrd
Resident Assistant – Kratz 2
Alia is an Elementary Education major with a double minor in Teaching English as a Second Language and Spanish. She is from Rensselaer, Indiana. So far, Alia's favorite part of Goshen College as been the friendships she has made and the love and support mostly everyone on campus has towards one another. She is looking forward to meeting new people and connecting on a deeper level with others. She wants to continue to create a welcoming and encouraging environment on her floor and around campus.
Morgan Catron
Resident Assistant – Kratz 3
Morgan, RA for Kratz 3, is a biochemistry major and psych minor from Goshen. He hopes to gain enough knowledge and experience to make it into medical school. He enjoys working with people and is looking forward to building community on Kratz 3 this year.
Nahshon Lora
Resident Assistant – Kratz 4
Nahshon Lora is a 2nd year History/Political Science major from Goshen Indiana. At Goshen College, Nahshon loves the caring community of professors and faculty. He also enjoys the diverse community that Goshen College offers. He looks forward to making good connections, helping build on-campus community, and having an overall fun time!
Reena Ramos
Resident Leader – Kulp 2
Reena Ramos is a third year ecology major and sustainability minor from Auburn, Indiana. She is very passionate about her field courses and the natural world. She enjoys the small Goshen community and ability to get involved with on-campus activities. Reena is excited to befriend and offer her support to all the students living in Kulp this year! 
Valentin Calvillo
Resident Leader – Kulp 3
Valentin is a third year at Goshen College studying biochemistry as a pre-med major from Goshen, Indiana. As a previous year RA, he enjoys and is looking forward to forming relationships with his floor members as well as with the community.