Kulp Hall – Junior/Senior floors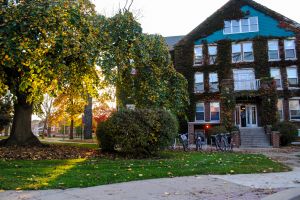 Kulp Hall was built in 1906 as a women's dormitory and dining hall. As the oldest residence hall on campus, it holds a special place in many students' memories of their college experience.
Today, Kulp is a coed facility with men and women on different floors and houses 68 students, in both single and double rooms. Kulp hall provides housing for juniors and seniors. This facility is designed to offer increased independence with the convenience of on-campus locations. Eligible students graduated from high school at least two years prior to the first day of classes. Students in Kulp have the easiest access to the campus dining hall, which is good news for those who don't want to face winter weather first thing in the morning. Kulp is a combination of old and new. While original woodwork, oaks floors and balconies retain the flavor of this historic building, lounges located on each floor include kitchen, electronic equipment and homelike furnishings. The windows have mini-blinds for privacy. New windows and a fire-safety sprinkler system make it modern by safety standards; plumbing and heating systems and bathrooms are also up-to-date. The laundry room is in the basement.
Floor Plans