Maggie and Tessa in Prey Veng
Maggie and Tessa are living and serving in Prey Veng. We visited Prey Veng on our first group road trip and the two of them are now back for six weeks over service. Maggie is living with Pastor Visal, who spoke to the group on our earlier visit. She also lives with his wife, Maly, and their daughter, Jourdyni, who is five. They live in one of three row houses. The other two are occupied by Maly's sisters and their families. To make matters even more interesting, the unit next door is occupied by Maly's younger sister who is married to Visal's younger brother. All this makes for great family times and oodles of fun for the young cousins who all share a front and backyard.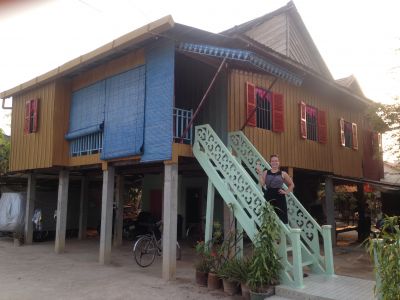 Tessa is living with one of Visal's relatives a few blocks from Maggie. Tessa's house has perhaps the most extravagant paint job we have seen in Cambodia to date. It is a colourful home with a cooking and common area below, and sleeping and living space above. Cambodians perfected the idea of outdoor kitchens and the concept of "bringing the indoors out" long before HGTV existed!  Tessa's host family has developed a small in-town farm with banana, coconut, mango and papaya trees planted in their yard. They also have a small flock of chickens and a stocked fish pond in the back.
For service, Tessa and Maggie are both working at an orphanage in town. There they teach English, hygiene and other life skills and spend time playing with the children. In addition, they are working with a missionary couple from Singapore, Annalisa and TuKwan, who have been integral with the development of the orphanage, and now teach English in other sites around Prey Veng.  Annalisa and TuKwan also keep young adults who have "outgrown" the orphanage at their home as they continue their educations or work at jobs in town. Maggie and Tessa are loving their work at both places. When Dan and Jill visited we found out that we would not be allowed to visit the orphanage. While at first we and the women were disappointed with this, we soon realized that this is a good and very healthy  thing. Those directing the orphanage are sensitive to the needs of the children there. They do not need a constant stream of even well-meaning visitors/onlookers passing through their lives. There is actually a problem in Cambodia with some orphanages having been set up to make money for the "owners" who perpetuate their funding through the donations and pay-to-work schemes they have set up for unknowing "voluntourists".  They make money with little regard for the children, many who have been trafficked into the pseudo-orphanage.  Thankfully, the orphanage where Maggie and Tessa are working is a wonderful and legitimate one raising healthy and happy children!  We know that the two of them are doing great work there and at their teaching assignments.
After a chance to visit with their families, we had a nice dinner together at a local restaurant and then had a chance to read their journals. It is such a pleasure to get insight into the lives of our students on SST. The following morning we met them early and headed to the market to try some food from their favorite vendors, which include a wonderful rice and pork stand, Khmer coffee with sweetened condensed milk, deep fried bananas and delicious cake. Prey Veng is a truly wonderful small town by the Mekong River floodplains, with a friendly, neighbourly vibe at the morning market stands. After our breakfast, the Koop Liechtys said goodbye to Tessa and Maggie, travelling further to the northeast to visit our four students in the mountainous state of Mondulkiri, which borders Vietnam.