Learning about Islam and a trip to Kep.
This was another busy week for the Cambodia SST unit, with a few much-needed breaks as well. After a free day on Friday with no class, one of the highlights of the week was a chance to visit the new and beautiful International Mosque in Phnom Penh for Friday evening prayers. We met with an imam and were able to learn about Islam in general, as well as Islam in Cambodia, in particular. Our unit assistant, Maria, was there to translate for us. The imam noted that during the Khmer Rouge era more than 50 percent of the Muslims in Cambodia were murdered and the rest survived by simply trying to blend in with the rest of the people around them.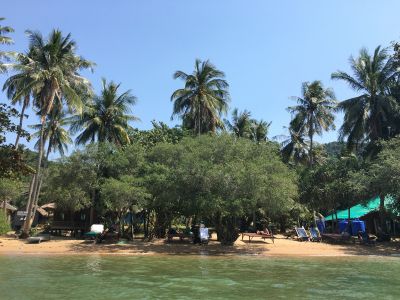 The week was punctuated by a fun weekend trip to Kep, on the coast of the Gulf of Thailand. We all got up early Saturday morning to travel south, and after a 20 minute boat ride, were on the beach at beautiful Rabbit Island by noon. Many had a lunch of fresh seafood and just enjoyed relaxing by and in the clear warm waters. That night we all went out for dinner at the local crab market and enjoyed time together around a table for 23.  On Sunday, we had a breakfast overlooking the water and enjoying the unusually cool breeze.  Some walked around the sleepy village of Kep and then we boarded the bus to visit the local Cham (Muslim) community in Kep, where Maria's husband, Umar, is from. Maria introduced us to members of her extended family and Sarah and Andrew were able to meet their host families, who they will be staying with on service starting in less than two weeks. After that we headed back to Phnom Penh to prepare for another busy week.
Highlights of the upcoming week include celebration of Chinese New Year and the longstanding SST tradition of the village study. Students will travel outside of Phnom Penh in groups of 3 or 4 to observe village life. The students make their own travel plans and find their own lodging in the village. They leave Phnom Penh on Friday morning and then return on Saturday afternoon. After that, we are less than one week away from the students dispersing around the country for their service assignments. It is hard to imagine that SST is nearly half over! The students often comment that their time here seems to go so slowly at times and then at others it speeds by. We have enjoyed learning about their experiences through their journals (another SST tradition). We know that for many, this experience will forever change the way they view themselves and experience the world.
Pictures taken by the Koop Liechtys.