After three straight days of afternoon lectures, it was time for us to get out and about the city. The students left RUPP after their morning Khmer lessons and headed over near the confluence of the Tonle Sap and Mekong Rivers. Many went straight to our 1:30 pm. meeting spot, Friends Restaurant, while others spread out in the area and found a place to relax and have lunch.  The students at Friends had mini falafel burgers with grilled vegetables, curry mayonnaise and lotus crisps and penne with roasted chili and cashew nut pesto, among other amazing things – yum! The students enjoyed looking around the "Friends 'n Stuff" store.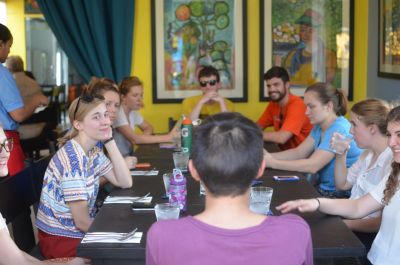 After lunch, we made the very short trip to the National Museum of Cambodia. Students spent roughly an hour there perusing the large collection of bronze, stone, wooden and ceramic artifacts. They were also particularly struck by the exquisite architecture of the building itself. The SSTers will return to the museum this Saturday with members of their families to see a traditional Khmer music and dance performance.
The students gathered in front of the museum and walked as a group to the nearby Royal Palace, home to the current ruling King of Cambodia, Norodom Sihamoni. Again, the students marveled at the beautiful grounds and amazing architecture. 
After a fun, but exhausting day the students headed back to their host families for the evening and prepared for another busy day tomorrow.  Many are gradually overcoming their jet lag, and adjusting to local food and water.  We ask for prayers that they all begin sleeping well and that stomachs stay healthy!
Bonus: Want to experience a tuk-tuk ride? Click here.
Photo credits today to Berke Beidler and most of the Koop Liechtys