P'teah Goshen Night Number One
Today was another normal day, if there is such a thing on SST. One student missed class today because his family took him to a wedding outside of Phnom Penh – that's an experience of a lifetime. The rest had Khmer class in the morning and then a lecture on Cambodian history from Father Francois Panchoud, who first moved to Cambodia  more than 50 years ago.  It was amazing to hear his first-hand account of taking asylum in the French Embassy when the Khmer Rouge came into Phnom Penh in 1975.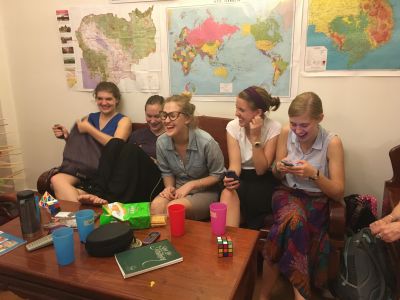 One of the highlights of today was our first weekly P'teah (House) Goshen night. After the afternoon lecture, the students found their way to the unit apartment. The Koop Liechtys had hired a mobile noodle stand to prepare noodles outside the building for anyone who was interested. We also had fresh vegetables and ingredients to make sandwiches up in the apartment, including fresh baguette. The students were pretty excited about the cheese for sandwiches and the peanut butter and jelly as well!
After dinner we had some time for sharing about what we have appreciated so far in our time here. Jill also led the group in devotions, focusing on Philippians 4: 4-7. After that, we practiced singing a hymn that we will sing when we visit a Cambodian church next Sunday. Imagining what that might sound like? No need to wonder, you can see it right here!  As you can tell, the students have bonded, are enjoying being together.
Tomorrow, we will have a special field trip to the National Museum and the Palace.  Stay tuned!