The students all came out of the weekend with so much to share with each other. A common theme was how kind their families are, the  wonderful hospitality they have received thus far, and how they will quickly be needing to learn how to say, "I'm full." Their hosts are feeding them well with delicious Khmer cuisine and other treats!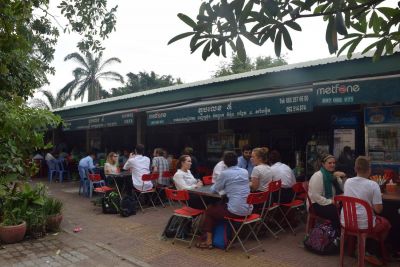 Today, we had our first day of Khmer class in the morning.  The students all arrived safely at the Royal University of Phnom Penh (RUPP), and on time!  We were welcomed by Mr. Tuch Phara, who is the director of Khmer language instruction for foreign students. We then met our teachers and they gave us a tour of campus, including a great tour of the library, showing us where to park our bikes, and where to find a delicious and reasonably priced lunch between our morning and afternoon classes (at one of the school's numerous canteens).
In the afternoon, we took tuk-tuks to the offices of "Youth for Peace" for a lecture on Cambodian cultures and people. After class, the students made their way back home to recover from a full day, and prepare for the next one. They have a journal assignment to think about and work on over the next week, reading assignments to complete, as well as continuing to connect with and practice Khmer with their families.
Today was a very typical class day. Most days the students will have 2 hours of language instruction in the morning at RUPP and a lecture or field trip in the afternoon at a different location. Want so see a quick Khmer lesson? Click here. The students have done so well and are adapting to their new surroundings with great adventurous attitudes and aplomb. Students have been blown away by the friendliness of their Cambodian families, teachers and other everyday people they interact with along the way.
Photo credits today to Brodie Nofziger, Berke Beidler and most of the Koop Liechtys.