Cambodia SST 2016 Preparations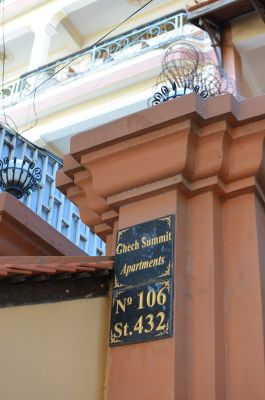 Hello, we are the Koop Liechtys and we have the privilege of leading 21 adventurous students in Goshen College's 2016 SST unit to Cambodia. Back on campus, Jill is the Administrative Assistant for the academic departments in the Newcomer Center and Dan is the Director of Alumni and Career Networks. We are here with our two youngest children, Elsie (17) and Cormac (13). Our oldest daughter, Emma, is a junior at GC and has joined us for her Christmas break.  While this is our first time in Cambodia as a family, we have lived in Asia before, having spent three years in India as a family working and studying at an international Christian boarding school there. We are excited to be back to the region and are so looking forward to having our GC students arrive in January. In the meantime, we are posting some pictures from our first weeks here.
We arrived in Phnom Penh on December 2nd to finalize plans for the students who will arrive on January 8. We have been busy getting our unit apartment set up, meeting with our local assistants, planning group travel, establishing and reinforcing relationships with in-country NGOs and faith-based organizations, setting up housing, language training, educational lecturers and service assignments. We've been so impressed with the wonderfully friendly Cambodian people and the exciting, vibrant city that is Phnom Penh. Everyday, there are so many new things to learn and interesting things to see.