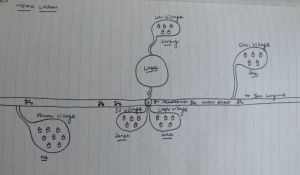 Living with Tampoun families in Ratanakiri Province — 12 hours by bus from Phnom Penh — is going swimmingly, in both figurative and literal ways. The five students placed there — Madeleine, Kate, Corey, Sarah T, and Seth — are having positive experiences living with their indigenous families and teaching English, and they also usually have a bit of time each afternoon to swim at the Volcanic Crater Lake that is part of the Yeak Lom Tampoun community.
Five Tampoun communities are part of the Yeak Lom Tampoun tribal group, and one student lives in each village. As you can see above, Madeleine has nicely mapped out the placement of each village, with the capital city of Ban Lung just beyond the map's view. Kate lives in Lopo Village, Sarah is in Sil Village, Madeleine lives in Phnom Village, Corey lives in Lom Village (a new village), and Seth lives in Chri Village. We had students living in each of these villages in 2010, too, though Lom Village was only in its germinal stage.
Sarah and Kate live side by side in villages that are only a minute's walk between them, and others are just a bit further away. Kate and Sarah teach English each evening, usually between 5:15 and 7 p.m., with two different classes — beginners and more advanced students. Madeleine, Seth, and Corey all teach English in their own villages, often alongside a sibling or someone else who has been teaching an established English class in their settings. The group also is working with their local Tampoun hosts on writing/editing a guided tour for tourists who come through the area, helping them understand something about the lives and challenges of indigenous people in this context.
Nearly all of the students sleep with one of their siblings on a flat floor mat on the hardwood floor — Kate with English student Srey Mom (her house includes usual siblings plus English students who stay there), Sarah with her 12-year-old sister, Seth with his same-age brother, and Madeleine with one of her siblings (Cochaa). Corey usually sleeps alone now in the open "living room" area of his house, which also doubles as the English classroom.
Kate's brother Khieng, who knows about eight languages, is a community leader and co-English teacher in the community center between Lopo and Sil villages. He also cooks many of their meals since his parents usually live at the family's "farm" a bit further into the countryside. Kate has a wonderful story about cutting bamboo out of the forest in the early evening, then cooking a meal with Khieng at a local restaurant for students working for Prime Minister Hun Sen. The students were helping the government and local landholders get appropriate titles for their land. On that evening, Kate ended up riding through the forest on the back of a moto with a 15-foot section of bamboo over her shoulder and a machete in her hands. She had the opportunity to eat live and dead ants as well as ant larvae at the family farm.
Seth's dining experiences have included eating a cow killed by a snake — including cooked cow intestines and stomach as well as a bit of raw cow meat. He usually teaches English for neighborhood kids in his house. His home and all of the neighborhood villages boast the odor of cashews, which grow everywhere in the Yeak Lom areas.
Madeleine has a large family that includes (as pictured) her Ma (Tiven), Pa (Sam), Brother Mii (8), Brother Nisok (9), Brother Kieng (11), Sister Cochaa (13 and her bed partner), brother Cie (15 and rarely home); pregnant sister Daa (19); and brother Baromey (20), who will be marrying his longtime sweetheart and backyard neighbor Bophaa (17) this coming weekend. All five of the Tampoun SSTers are invited to the weddding and looking forward to the Tampoun rituals and Khmer reception. Madeleine's mother, sisters, and sister-in-law also create traditional Tampoun weavings, which are increasingly rare as the indigenous people modernize.
Many of the young people in Lom Village, where Corey lives, are Christian, though almost none of the adults are part of the Christian Church. In the other villages animism is dominant (seeing the spirits in all animate and inanimate objects), and at least some of the students have been able to observe animist rituals.
Three of the five students have regular squat toilets, but Madeleine and Corey use the bathroom in the great outdoors, finding a place among the weeds and then having the results of their bowel movements eaten by the sling-back Vietnamese pigs that roam the villages. Madeleine and Corey also bathe at the very public well areas in the center of their villages, but have come to enjoy this communal time. Madeleine makes a point of being home at the time her mother and sisters take their dump showers so they can enjoy this time communally.
Usually the students are able to go to the lake for part of the afternoon before or after their English teaching. They also have taken a field trip to one of the many local waterfalls, and their Tampoun hosts are keeping them engaged with other sight-seeing in the area.
The students joined the Graber Millers for swimming on Tuesday afternoon at their hotel, and also spent the night at the Tree Top Ecolodge in the capital city of Ban Lung. Keith visited each of the villages, in succession, on Monday afternoon, picking up each of the students as he went and heading on to the next village.
It's clear the group is thriving in the Tampoun villages, and we are grateful for their hosts. We hope their teaching contributes to their Tampoun students' learning and look forward to the SSTers working with the Tampoun young people to develop a more tourist-friendly guided tour of the area.
Nate and Brett stopped by the Graber Miller apartment this morning to check in. Keith leaves for Kampong Cham tomorrow to see Renae and Henry in their Muslim village, and then the whole Graber Miller clan leaves for Siem Reap on Sunday or Monday to see the four students placed within an hour of there — Jake, Sara K, Audrey, and Joel. More updates to follow between these trips.