Traditional Photos and Meetings with Local Assistants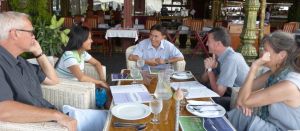 This is the third of three posts we're putting up this evening, so please be sure to read about Jessie's experience in Tang Khiev and Lauren and Jacob M's service in Ba Phnom.
The Graber Millers have enjoyed a more relaxed pace of life in Phnom Penh over the last two weeks. They've been out for two service visits thus far, and are planning a major trip to Ratanakiri Sunday, where they will see Kate, Madeleine, Sarah T, Corey, and Seth.
This week they've also had many opportunities to chat with SST Director Tom Meyers, who is visiting from back on campus. Tom, Ann, Keith, Mia, and Simon have had lunch or dinner meetings with Sen Marya, our local assistant, and her husband Oumuet; with Neang Sisaphanta (Nana), our family assistant and Brett's host sister, and her longtime companion Panya, who is also Sara K's Phnom Penh brother; and with Sreyhem Roberts, who was instrumental in helping get the Cambodia SST unit started and who hosted the family party this year once again.
Last Sunday Keith and Ann took Sokhorn, their friend and household assistant, along with her two daughters, to dinner at the Baitong Restaurant and then to a photo studio. In 2007 Sokhorn worked full time for the Graber Millers, and in 2010 and 2013 she has assisted/is assisting the Graber Millers with cooking, cleaning, and laundry one day a week. In 2010 the Graber Millers did a similar family photo in traditional clothing, so they treated Sokhorn and her daughters to a similar experience.
The photo studio spent about an hour and a half applying make-up and selecting clothing for Sokhorn and 17-year-old Nyka and 11-year-old Vycheka. Nyka and Vycheka and their 15-year-old brother Makara — who was not able to make it last Sunday — live in an orphanage outside of Phnom Penh. Nyka dressed in the clothing of an apsara dancer since she is trained in traditional dance (she has performed in Cambodia and outside of the country as well). Marya also accompanied us to the photo studio.
This morning we picked up the resulting professional photographs, so we're posting them here. We're proud of Sokhorn, Nyka, and Vycheka, and grateful that they shared the day with us. We look forward to the trip to Ratanakiri this weekend.