Final "Study" Week in Phnom Penh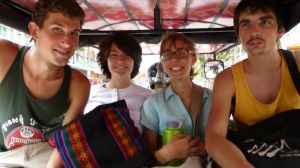 Although students already are out on service, scattered across five provinces in eight different service sites, we wanted yet to post photos of their final week in Phnom Penh before leaving last Friday for the "accompaniment" portion of SST.
It was a full week of classes and activities. Among the highlights of the week were:
A group dinner at the Baitong Restaurant, on the evening we went for our riverboat ride
A two-hour evening riverboat ride on the Tonle Sap and Mekong rivers, sitting atop the paddlewheel boat and talking through the evening.
The final week of regular Khmer language classes. After students return from their service assignments, they will do testing with their Cambodian language teachers.
Hearing Pantha, one of the language teachers, go through all the vocabulary that might be necessary when living in the countryside, including how to tell someone if you have been bitten by a snake (helpful to know, though no Cambodian SSTer has been bitten by a snake; we're not sure any student has even seen one here).
Input by Mennonite Central Committee workers, including Derek Hostetler, who co-directs MCC Cambodia's program, and Daron and Kirstin Docken Showalter, both GC grads. Daron also was on SST with the Graber Millers in China in 2002.
Seeing our 2010 Cambodia SSTer Julian Sider, who was visiting from Thailand, where he is living for a few months. Several of Julian's good friends (some members of the Kansas Bible Company band) are on SST here this year.
Input on Cambodian Politics and Economics by Ouk Serei Sopheak, whose work over several decades has given him great insight into these topics.
Input on NGOs and Development in Cambodia by Meas Nee, a consultant to NGOs and other agencies.
Joel, Sara K and Seth's appearances on Nana's (a host sister and our family coordinator) popular evening radio program. Seth appeared one night to talk about relationships, and Joel and Sara K appeared another night to talk about living in dorms and college life in the U.S.
Pre-service goodbyes at P'teah Goshen.
The Graber Millers are at home in Phnom Penh, relaxing a bit before beginning our journeys to the provinces to see the students. Next week we'll visit Jessie in Oudong and Lauren and Jacob M in Ba Phnom — two of the nearer sites. SST Director Tom Meyers also will be visiting from the U.S., and he may accompany Keith and Ann on one of the visits.