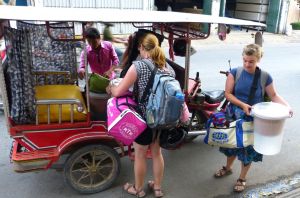 Students all left for service on Friday morning, most meeting at and departing from the Graber Miller apartment. Some came early for breakfast, others arrived later in the morning, but all were on the road by 1 p.m. The day was not without its snags and demi-traumas (a missed bus to Ratanakiri, non-functioning phones, a purse snatched from a bicycle basket by a passing motorcyclist), but students were all in good humor as they left for their service locations.
Thursday afternoon the group met at the Graber Miller home to take a final quiz, do family and academic program evaluations, offer village study reports, and undergo yet another orientation — for service. As the Graber Millers said then, "Every service experience is different, every village is different, every family relationship is different. But all are worthwhile and often transformative experiences. SST-style 'service' usually is not doing something for people that they couldn't do on their own, but accompanying others and learning from them, honoring their way of living and their vocations. 'Accompaniment' is probably a better term to use than 'service.' In the spirit of SST, we invite you to see every new experience as an opportunity to explore and expand or an obstacle to overcome. See each challenge as a 'teachable moment' in which you ask the question, 'What have I learned?'"
Here, then, is a brief rundown of where the 18 students are on service:
Audrey and Joel are in Kampong Phluck, the high-stilted fishing village about an hour from Siem Reap. They will be teaching English and learning how to live on the water.
Maryn and Carina are in a small Cham Muslim village outside of Kaep, near the south coast. They also will be teaching English informally following the village's evening lessons for children on Muslim teachings. Carina and Maryn also will be tending ducks and doing some local gardening. Maryn is hoping for lots of time to do bird-watching as well.
Renae and Henry are in a small, tobacco-growing Cham Muslim Village in Kampong Cham, not far from Kratie. They also will be teaching English in the local school.
Lauren and Jacob M are in Ba Phnom, with Jacob living at a Buddhist wat with young Buddhist monks (an SST Cambodia First!), and Lauren living nearby with a family. They'll be teaching English as well as teaching and learning music.
Seth, Sarah T, Corey, Kate, and Madeleine are in Ratanakiri Province, living with indigenous Tampoun families in this rural, mountainous region of Cambodia. They also will be teaching English as well as helping with some English translation at the local tourist site, a beautiful, volcano-formed, crater lake.
Jessie is doing a solo service assignment in Oudoung, not far from the capital, living among villagers who were forcibly evicted from Phnom Penh when the government took the land from under them to sell for development (now a soccer field). About 18 months ago the villagers were loaded onto trucks and literally dumped into an open field, taken away from their homes and vocations and left with absolutely nothing — not even materials or tools to build new homes on barren land.
Sarak K is working with IDE, a Canadian-run NGO, outside of Siem Reap. Her assigned project is gathering and writing stories of women agricultural workers/entrepreneurs/consultants in the rural villages.
Brett and Nate are both in Phnom Penh, living with their city families and working for a Get-Out-the Vote Campaign, assisting Brett's host sister Neang Nana (also our family assistant) and others as Cambodia prepares for its summer elections.
Jake is living in a rural potter's village about 20 kilometers outside of Siem Reap. In addition to making pottery with his host brother, he'll be teaching English to employees at Rajana in Siem Reap, a fair-trade company with whom Ten Thousand Villages and Found in Goshen work.
Students all seemed to be pumped for their service assignments, and we think they'll do swimmingly.
We'll be posting fewer blogs hereafter, though in a couple of days — in the dry period before we begin visiting students at their service locations — we'll post photos of the last week of activities and classes in Phnom Penh. And once we begin our visits, we'll also post photos of students on location as well.