Audrey on Goals for Service
Students set out yesterday (Friday) for their service assignments, scattered across five different provinces in eight different service settings. Watch for an additional post about students' service locations, and also an out-of-order post about the students' last week in Phnom Penh.
Audrey headed off, with Joel, to a remote fishing village known as Kampong Phluck, about an hour from Siem Reap, on the Tonle Sap Lake. The group visited the village the weekend we were at Angkor Wat, and the photos here are of Audrey with others — including local contact Serei — on that visit. Here are Audrey's comments about her service goals, in response to an assigned journal entry: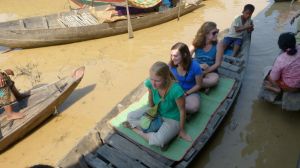 By Audrey
About time to go to a small little village on the bank of the Tonle Sap Lake. Kampong Phluck is its name and due to its proximity to the yearly floods, all houses are built on stilts. Joel and I will be teaching English, which is kind of scary (not horrifying, though), because I've never taught English, let alone in Khmer. Mostly, though, I expect to immerse myself in the slower pace of village life, and spend my days getting to know the people of Kampong Phluck as well as the way of life there.
Of course I'm fully aware that I'm not "needed" in Kampong Phluck. I don't really have miraculous skills other that some other English-speaker couldn't provide. So I go offering my presence, I suppose. Maybe my ability to relate, talk, listen, help out, live, ask questions — basic human abilities. really. Keith and Ann use the term "accompaniment" to describe the essence of the service portion. I go to live amongst them, with them, sharing bits of my life and learning all that I can from them. I also will be for them a representation of America and the Western world. That reality is pretty significant when I thinking about all the images of Western culture that they might have in their mind.
I really don't know much about what I'll be doing on a daily basis, so I'll have to write about that as it unfolds for me. I do know that time will slow waaaaaay down. I'll have lots of time to read (I'm not well stocked!), talk with people, fish (?), explore, and who knows what else. I'm also glad that Joel will be going with me. I could probably do it alone, but it would be difficult and this way I will have someone to talk to and process things with. Plus Joel is a really nice person, and someone I look up to for his thoughtfulness/intelligence — so again, he'll be good to have around. And I hope that I can be a good person to have around for him, depending on what he needs.
So yeah, it should be interesting spending such a long time with only one other person who speaks English fluently. I think all the other service partners have been paired really well and that there shouldn't be any problems. Of course we might all have a day when we're ready to go back and talk to other people, but I don't think anyone will be making sacrifices. Ha!
So, goals. Hmmmmm … Can I make a list? I'll make a list:
Not get too sick (I've been lucky so far!!)
Adapt myself to small-village life, find a niche/role/pace in the swing of things there
Get to know more Cambodians!
Read a lot of books
Think about stuff (I know, that's really specific)
Play with kids, or help care for them, or join in community activities, or help my family cook, etc., etc.
Master showering in a piece of cloth …
Get to know everyone better, including myself
Not wish away the time, even when it feels very slow
Be content with where I'm at, what I'm doing
Fears:
Six weeks is such a long time to not be doing a lot (I'm used to being busy most of the time!) and to being with only Joel and all other people who speak mainly Khmer. I've never experienced anything like this!
Of getting stir-crazy
But really I'm looking forward to a slower pace. I want to leave my need for busy-ness, structure, plans, productivity, and precious time all in Phnom Penh. Instead, I want to learn how to live with a schedule that goes by the sun, a lifestyle that is dependent on the earth, on the lake, and to have plenty of time to either chat or be alone and think. It seems like a big change ahead, yet I'm looking forward to it, and I know in retrospect it will seem to have gone by so quickly.
Tomorrow before lecture, Marya, Joel, and I are going to call Serei, our local contact who will tell us more about what we'll be doing, how to get there, and maybe what to expect. But then, it's SST … so you never know what to expect!!