Teacher Pantha's Krama Lecture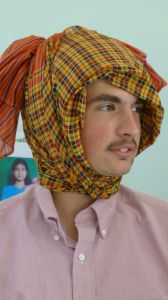 Morning Khmer classes and afternoon Khmer classes continued throughout this past week, with Town/Village Studies happening on Friday and Saturday (see new blog on that from last evening). Last week at P'teah Goshen, with Corey in the group of cooks, the meal involved a lot of cheese, a food students sometimes miss. The meal included grilled cheese sandwiches, tomato soup with grated cheese on top, and broccoli with warm cheese sauce. At P'teah Goshen, Nate, Henry, and Lauren spent time practicing a few songs together, both in Khmer and English, and then left early to perform at Henry's niece and nephew's birthday party. We also had fun celebrating Jessie's 20th birthday, the first birthday of the SST experience, with a surprise cake graciously baked by Brett and with chocolate gifts aplenty.
Lectures this week included input by Mr. Panya, who spoke about Building Community Voices, helping to empower indigenous people in Ratanakiri Province and elsewhere to speak up for their land rights, and to educate people about issues that relate to their daily lives. Daniel Talstra of Mennonite Central Committee also participated in a presentation at the Returnee Integration Support Center (RISC), which helps Cambodians returned from the U.S. (and elsewhere) get their legal documents in order, get job training, and find remaining relatives in Cambodia. RISC serves Cambodians who were refugees in the 1980s, just after the Khmer Rouge period, and who were among the several hundred thousand of Cambodian refugees who went to the U.S. and were granted permanent resident status but not citizenship. If those refugees are convicted of a felony now (theft of various sorts, etc.), they are forced to serve their jail sentence in the U.S. and then returned to the "homeland" they left 30 years ago, often as babies. Some who are returned have had no contact with any relatives in Cambodia for several decades, and speak Khmer only haltingly.
A highlight for the Graber Miller family was having our local assistant, Sen Marya, come to our home Saturday morning to help translate some more complex conversations with Sakhorn, who has worked for us during each of our SST assignments here (2007, 2010, 2013). Sakhorn has become a family friend, and assists with household chores on Saturdays, and usually cooks our Saturday lunch. Because our Khmer language skills are still halting and Sakhorn speaks no English, communicating about our lives is sometimes difficult. We had a lively conversation about our children (Sakhorn has three who live in an orphanage because she cannot afford to keep them at home), our work, the students, and other personal matters.
One of the students' highlights of the week was a lecture by Khmer teacher Pantha, who spoke with the whole group about cultural customs, particularly uses for cotton kramas (typical Cambodian scarves) in the countryside. This was perhaps the most amusing and the most practical lecture of the term since students head to their service assignments Friday. By the end of the lecture, students realized they could essentially survive — with plenty of clothing to wear, coverage for outdoor bathing, hats of various sorts, carrying rigs, and even self-defense weapons (!) — if they had two or three kramas with them in the countryside.
At the end of the lecture, Pantha taught students the "Arrapia" song, which a group of students danced to. We've included a couple of photos of that here, and if you'd like to see the actual dance (which is really great to witness), click on this link to see on facebook the video Maryn shot.
Be sure to see the blog on this weekend's Town/Village Studies as well.