Immersing Ourselves at Rabbit Island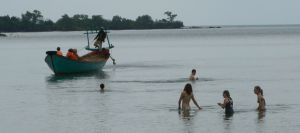 This is the third of three blog posts we're putting up today — one on our lectures and language classes over the last week, and one Kate's reflections on being in Cambodia. Please see those blogs as well.
On Saturday and Sunday we took a quick overnight trip to Kep/Kaeb and Rabbit Island on Cambodia's South Coast, where we immersed ourselves in the Natural World components of the course. It was Chinese New Year weekend, so many Cambodian and other Asian tourists also were traveling the countryside. Cambodians celebrate the Western New Year in early January, the Chinese New Year in early February, and the Khmer New Year in early Ma — a lot of new years for one year.
We left early Saturday morning from the Royal University of Phnom Penh, arriving at our hotel to drop off our luggage before taking boats out to Rabbit Island, where we spent the rest of the day. Students divided up into groups and had a spectacular lunch at one of the little thatch restaurants owned by one of the six families who have lived on the island for more than two decades. Often the grilled seafood meals took an hour or more to prepare (more than two hours in the case of the Graber Millers, since Jake accidentally ate their first meal when it was brought to his table), partly because they sometimes need to go out to their fish traps to pull out fresh crabs or shrimp for cooking.
Sunday morning we had a buffet breakfast at the Veranda Hotel in Kep, which overlooks the beachfront. The Veranda, once a sleepy little cottage hotel and a favorite of Mennonite Central Committee workers in Cambodia, has developed into a sprawling and beautiful hotel. Students enjoyed the views from the open-air restaurant before returning to our hotel for a bit more swimming in the pool or the Gulf of Thailand. Before we left the hotel, Maryn continued a long-standing family tradition of retrieving rocks, shells and seaglass from the gulf and creating a Rock Rainbow on one of the poolside loungers.
We realized on the return home that this was the last SST overnight group field trip the Cambodian SSTers would ever experience. With only seven more class days in Phnom Penh, the group is focused now on this weekend's small-group village/town studies, and then heading off for service a week from Friday.
On Monday morning, the Graber Millers were treated to the lion dance — a Chinese New Year staple — in front of one of the home of a wealthy Chinese neighbor. The neighbors also hired the dance troupe in 2010, so the music and pedestal-hopping was quite similar, but it was a great, celebrative event. In the short performance, dancers leaped from 10-foot pedestal to 12-foot pedestal with immense ease.
(Most of the photos in this blog post were taken by Mia Graber Miller. Please see the other two blogs posted today — one on our mosque visit and language classes and one Kate's reflections on being in Cambodia thus far.)