2013 SST Cambodia Preparation
Since early December, the Graber Miller family has been planning for the arrival of 19 Cambodia SST students, arranging the academic schedule, booking buses and field trips, purchasing mosquito nets, getting banking sorted out, exploring the city, researching service locations, and securing host families, all with the help of our local assistants. Neang Sovathana (Nana) is our new family assistant, and Sen Marya (Marya) continues as our program assistant. Nana, a Buddhist, is a 20-something NGO volunteer and social/political activist for various human rights causes, and Marya, a Cham Muslim who was recently married, also works for NGOs as well as the Goshen program.
Over the last couple of days we have been visiting the students' homes to learn to know families and find the best matches, and Monday evening we will host a parent orientation at a local restaurant. Our daughter Mia is putting together the student packets that will include the Syllabus, Week-by-Week Schedule, full listing of family placements and phone numbers, initial expense money, medical contact information, and a couple of rehydration packets. All is coming together swimmingly.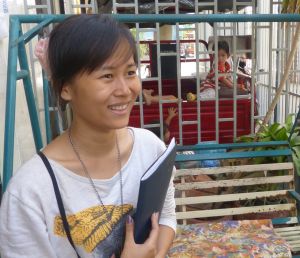 We look forward to meeting students at the airport next Thursday evening and then whisking them off to a local hotel for about 18 hours of sleep and orientation. Host families will pick up their students at 5 p.m. Friday here at our apartment.
If you'd like to be notified when we post new blogs, please sign up for the ride here on GC's website. Your comments are welcomed as well. Thanks.