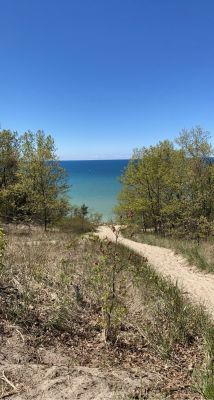 Simon Graber Miller, a senior Biology major from Goshen, Indiana, shares his perspective on one of our outdoor activities: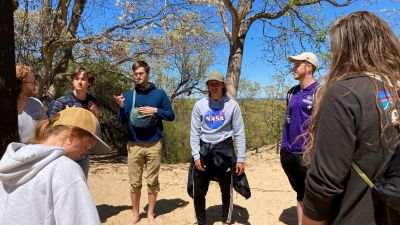 After a captivating talk from Billie Warren on indigenous perspectives of ecology and economy, we had a delicious lunch of hummus and pita provided by our chef for the week, Tom Hartzell. We loaded into the bus and got ourselves ready for hiking the dunes at Indiana Dunes State Park. After arriving at the park, many of us decided to begin hiking the dunes right away, slipping off our socks and shoes and attempting the "three dune challenge." This challenge involved hiking to the peak of three separate dunes, each with a beautiful view of Lake Michigan peeking out beyond the trees. The warm, smooth sand felt perfect on our cold and tired feet.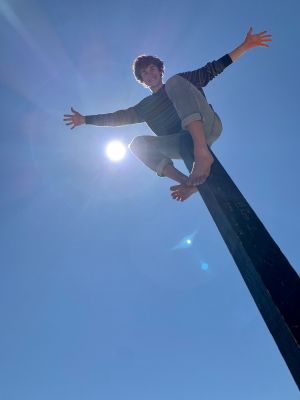 We saw lots of wildlife on our excursion at the dunes, including pileated woodpeckers, a groundhog sitting atop a tree, many friendly dogs, and a sandhill crane. At the peak of each dune, we relaxed and conversed, laid out in the sand and played frisbee. After completing the three dune challenge, we met up with another section of our group and went down to the beach. Though it was only 55 degrees and very windy, two brave souls from our group slipped into their swimsuits and entered the frigid water. They lasted about five minutes, seemingly unbothered by the icy water of Lake Michigan at this time of the year. After this, the whole group got together at the bus and we headed back to our campsite. We had a delicious supper of corn chowder, conversed by the campfire, and then headed to bed early to recover from a very eventful day.