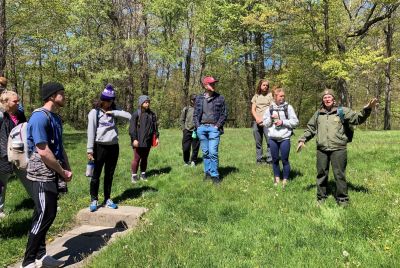 The author of this post, Oskar Sunderland, is a junior Graphic Design major from Seattle, Washington:
Our group's tour to the Bailly Homestead and Chellberg Farm at Indiana Dunes National Park was a unique and compelling window into the past. We gathered at the start of a trail to hear from Co-Chief of Interpretation and Education Kim Swift from the National Park service, who informed us of the indigenous wildlife, communities, and biodiversity that had prospered in the area up to ten thousand years ago. We also had the fortune of learning about how the receding ice age affected the topography and climate of the land around southern Lake Michigan.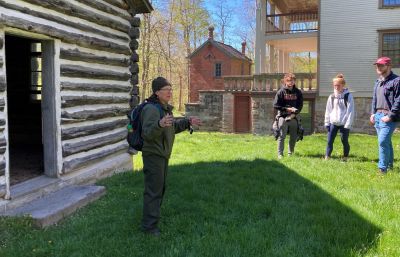 The trail led us through a forested area with a history of maple farming, eventually leading us to a clearing where a large house and several other smaller buildings were – The Bailly Homestead. As historic buildings, all of them had a very old-fashioned, rustic architectural structure. It was here that Kim taught us about the historic possession of the homestead and its key vitality in the journey between Chicago and Detroit during the 19th Century. We learned of the homestead as a key part of the Bailly family's history, as its home ownership was passed down over several generations and management fluctuated with each owner. Chicago-based Swedish migrants were recruited to the area as sawmill workers and lumberjacks, and these migrants went on to settle in their own homes and farms in the area. Many cabins and houses nearby were built and owned by the Swedes recruited by the Bailly family. Unfortunately, we were unable to enter the large house due to safety concerns; however, we did get to go inside a small wooden chapel next to the structure.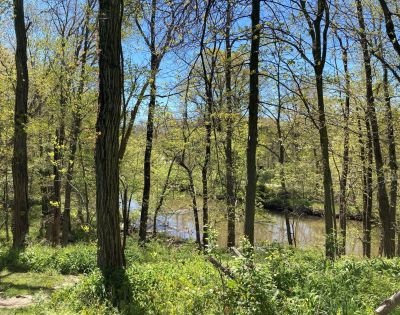 Our next part of the tour was to the Chellberg Farmhouse, which took us yet again through the woods and was located in a different clearing from the Bailly homestead. It was a mid-sized brick house that was constructed in the late 19th Century as a replacement for a wooden home that had burned down in the spot beforehand. The home was historically owned by the Chellberg family: one of the many Swedish families that settled in the area back in the day. The interior of the farmhouse had a variety of culturally Swedish aspects to it, including embroidery that read Välkommen above a fireplace. Much of the walls and furniture were visibly outdated and worn down, reflecting the age and historic significance of the structure. Adjacent to the farmhouse was a livestock farm, where cows and chickens were out enjoying the springtime Indiana sunshine. We concluded this tour by returning to the parking lot where the initial trail began and played hacky sack while we waited for the group to convene once more.