Self-care. It's one of the first things you learn in nursing school, but what exactly is it? It's the ability and power to take necessary time to tend to your physical, mental, and spiritual health and wellbeing. What it all comes down to is figuring out a way to make that time for yourself especially when you are suddenly on a stricter schedule than what you may be used to. Think about having to instantaneously share a single room with eight other people and having to manage a chaotic schedule. For example, you have to manage who gets to use the bathroom and when, waking up every morning at six, eating breakfast at seven, working until four or four thirty, having dinner at six, and lights out at ten. On some days there are class meetings that may take up the only free time that we have available to us throughout the day. So how could you possibly make time for yourself within that single work day?
Personally, I may go for a walk with a group of friends and explore the small town of Marianna, Florida. I may take time to reconnect with my family through facetime calls. For others, it may include quality time alone, getting some fresh air, or more recently playing cornhole has become a popular getaway from reality. While some enjoy quiet time to themselves, others enjoy making conversation with others. Though our workdays are productive and busy, it is essential to make time for yourself, no matter the depth of what that may include. As a group, we have had very much needed beach days and hikes to a waterfall. Taking time for ourselves should never be frowned upon, nor should it be pushed aside. Sometimes fifteen minutes alone could be the missing puzzle piece you need to be able to conquer the rest of your day.
As the day went on today, many of us found peace and comfort in the love and cuddles from puppies and kittens. We then found ourselves diving deep into our camera roll looking for pictures of our dogs that we all miss very much. We got to see a house dedication and witness the restoration of hope for a family who had lost everything during hurricane Michael. It was a wholesome feeling to see the gratefulness and cherisments of the homeowner towards the volunteers, but especially her freshly built home. Towards the end of the night we ended it with a very intense competition of cornhole. Spoiler alert, my partner and I only lost to the reigning  champions (Kristin and Kendra) by two points. It's in those moments where you are truly living and forget about reality, that you find time to settle down and focus on yourself. Some days are easier than others, but in the end self-care is truly important for the body, mind, and spirit. Take time for yourself, no matter what that may be for you. Breathe. Then maybe you can return to reality with a clearer mind, energy to conquer what God has in.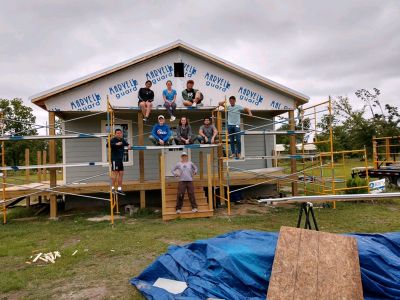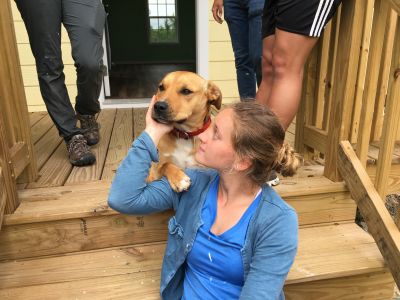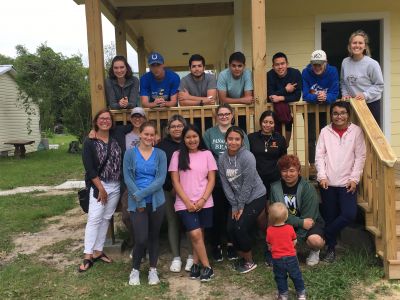 store for you in that moment, and finish your day with a sense of meaning and accomplishment.
Written by: Courtney Smith