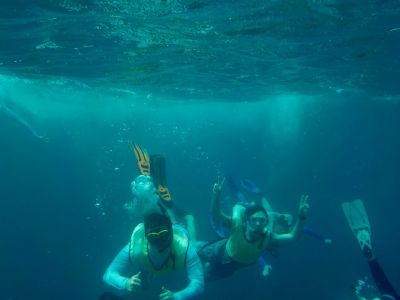 Friday May 14, 2021
This was one of the most anticipated days and one of the most dreaded days (for reasons explained later) of the whole trip. This was the day that we all got to see the coral reef, but before that we had another morning lecture. Today's lecture, however, was about the ecology of coral reefs. We talked about how coral reefs have tons of biodiversity for being in such nutrient poor environment. It is very difficult for needed nutrients such as carbon and nitrogen to stay in the water column, it is either consumed by other creatures or washed away so barely any reaches the reef. It pointed out that creatures on the reefs are very nutrient rich and efficient nutrient recyclers. When a creature dies or excretes waste it is quickly absorbed back into the system before it gets washed away into the water column. After the lecture we had our dreaded practical.
The first started in the hall with a ppt of the 13 species we had to taxonomically identify, giving the phylum, class, order, genus and species. The second half was at the GC facility, where we used actual samples, we had collected throughout the weeks. There were 30 samples ranging from plants to animals. I believe everyone did an excellent job on both sections.
We then quickly hopped on the bus to head towards Key Largo so we can catch our boat taking us out to the coral reef. We booked a charter through Rainbow Reef on the boat called the Santana. They took us to two locations at the French Reefs. The locations were called the Hourglass and the French twist. We saw a variety of new fish species we haven't spotted yet, with the spotlight being taken by a spotted eagle ray and a southern stingray. It was an amazing experience and disheartens me to think that these beautiful locations are dying.
On our way back we stopped at the grocery store for a few last minute supplies to last us these last 3 days. We ended the night together eating one of my favorite breakfast items French toast. This last week is going by fast for all us and I don't know if I will be able to get all my work completed.
– Trey Santiago '22 (Environmental & Marine Science)