Tuesday May 11, 2021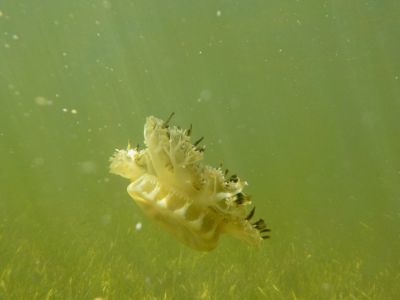 The day began with sunny skies and calm water as we arose at our normal time for lecture. We learned about the varying complexities of food web ecology, specifically that of trophic cascades and keystone predators. Cases like Orcas having indirect effects on kelp abundance due to a trophic cascade are helpful in understanding how important food web ecology really is. Many of the ideas brought up in lecture connected back to the presentation given to the class by Jason Spadaro at MOTE the day before. While he did not mention trophic cascades in his talk, the ecological mechanisms of predation and grazing were apparent after delving deeper into the theory.
After lecture we then gave all our attention to our colleague Trey Santiago '22. He began by instructing us on what our field work would look like when collecting data for his research in the bight. We packed up and headed out into the field where we were reminded of the methods and began running practice trials. We were able to find a steady way to collect data and got some numbers for Trey to work with. There was a huge amount of C. xamachana (upside down jellyfish) where we did one of our trials which was very impressive, but sometimes a little nerve racking. Some students went to snorkel closer into the mangroves where the C. xamachana density became so high it was difficult not to touch any. We then tried to look for a small sunken boat within the bight that Professor Sensenig told us about, but had no luck finding it. We then headed back to the station and as we made our way through the canals, we got one last highlight from the field when we saw a green sea turtle swimming in the channel! The day ended with some good food and company as the sun went down for the night.
– Jarrod Price (Environmental and Marine Science '22)