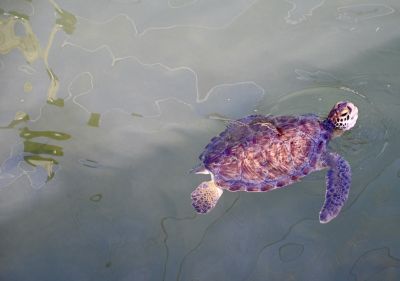 Thursday May 6, 2021
Today's lecture was about sponges, mainly focusing on Spheciospongia vesparium (loggerhead sponge) and Ircinia campera (vase sponge). Our morning visit was to the hard bottom sponge site. This habitat consisted of little soft sediment/sand with different sized sponges (bottom fitters) as well as other organisms such as spiny lobsters, lionfish, stingray, cowfish, and snapping shrimp. This location in the hard bottom was my favorite out of the other sites we visited because as a professional swimmer, I was able to dive down and swim more freely. This allowed me to not worry so much about the bottom but at the same time be cautious of my surroundings when swimming with fins. As we were heading out after we finished collecting some data for today's visit, we had a special surprise from a few tarpons along the way and a stingray.
In the afternoon we had another lecture about mollusks that only lasted no more than thirty minutes. The afternoon lecture was then followed by a little visit to the turtle hospital! This was my second time visiting the turtle hospital but I was still excited to visit them once again. Most people don't realize how many injured turtles are being recovered and treated by the effects of water pollution, boat strikes, and plastics. Some turtles become permanent residents for these reasons for not being able to maintain their buoyancy however, the majority do get released back into the wild healthy. 
After our little visit to the turtle hospital we collaboratively decided to eat out at a restaurant down in Marathon. Then after dinner, we went to the store to buy groceries for a week's worth of food. Once we were back to our houses, some of the girls and guys decided to head to the pool and watch the sunset. The pool was very relaxing and we had the whole area to ourselves as dusk approached. With a full day of activities, we all were exhausted but still had much homework to do before the night ended.
– Carolina Olivo '22 (Environmental & Marine Science)