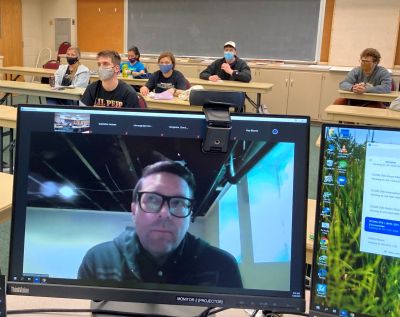 Harrison Gingerich, a senior from Canby, Oregon, is a Sustainable Food Systems major.  In this post, he recounts key parts of a Zoom presentation by one of our indigenous speakers:
Scott Shoemaker is a member of the Miami, a group of people that lives in Indiana, Ohio, Oklahoma, and Kansas. You may be wondering how a group of people got that spread out. Shoemaker was willing to share with us some of the history and current events that define the Miami people.
Miami peoples were slowly forced out of Indiana and Ohio for a number of reasons in the colonization era of America. First, Iroquois pushed back the Miami to gain access to the beaver they would trade to the French. After this, American colonizers pushed the Miami to reservations in Oklahoma and Kansas. This has left the Miami pretty spread out. It is worth noting that the Miami have begun to overcome these obstacles and their culture is alive today. Shoemaker stressed the importance of agency in the decisions made by the Miami.
Language has been a big part of the Miami development throughout the years. The name Miami has a rough translation to 'downstream people.' This relation to the water is a big deal to the Miami. In addition, they trace important connections to the sandhill crane. Their language, which began a revitalization project in the 1990's, was considered a dead language by linguists. Today the effort to reestablish their language is going well and many people are learning to speak the language once again.