Tuesday May 4, 2021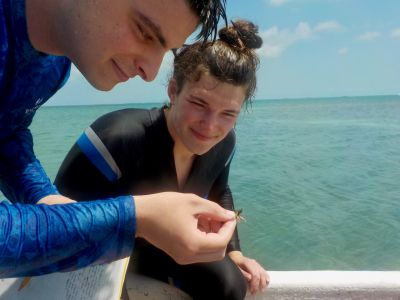 On Tuesday morning, the sun was shining and the temperature was 81 degrees. In our first class of the day we discussed seagrass ecology and biology, as well as the benefits and threats to the seagrass communities. The three main species found in the Florida Bay include: Thalassia testudinum or Turtle grass, Halodule wrightii or Shoal grass, and Syringodium filiforme or Manatee grass. There are many ecosystem functions seagrass communities provide including serving as a habitat for small marine organisms, trapping sediment, acting as a food source for many species large and small, and providing ecosystem services such as carbon sequestration and absorption of nutrients. 
After our class, we visited the mudflat, Triton, where we snorkeled in a very shallow location, encountering Thalassia, many different species of sponges, coral, such as Porites porites, a variety of green algal species, and much more. It became difficult to snorkel in some areas of the mudflat, because the surrounding coral was rough and scratched any body part that came in contact with it. It was fascinating to see all of these marine organisms up close, yet my legs that are full of scratches may say otherwise. In small groups, we looked at species richness in simple and complex areas while in the mudflats, as well as the number of species found in the green algae, Halimeda opuntia. Once all samples were collected, we headed back to the boat to sort out, count, and identify species found. A few organisms collected were:  Mithrax sculptus or Emerald Crab, which have sharp claws and are as small as a quarter, brittle stars, and Padina sanctae-crucis or brown algae. 
We took a lunch break, and later in the afternoon we had a fun snorkel where we swam near the shore of Fiesta Key to look for a potential site to complete our future night snorkel. This was near where we snorkeled earlier in the day. It was a bit deeper than the morning mud flats, and there were many Cassiopea xamachana, Upside-down Jellyfish, that were almost the size of a basketball! I also saw the head of a nurse shark, and it was frightening at first, but I knew it was more afraid of me! Overall, this was a great day of snorkeling, learning about new species, and being able to interact with marine life in the field. 
-Emily Brandeberry '22 (Environmental & Marine Science)