Today, we started our day earlier than other days. With a sprinkling sky yet very pleasant weather, we loaded our bus for an hour and 40 minutes drive towards Aibonito, a mountin city in the mountain range of Cayey.
Dali Rodriguez, one of our choir members, shared a story about the meaning of her hometown name, "Aibonito" to us on the bus; "Bonito" means "beautiful" in Spanish and as we all saw the amazing beauty of the area, the story was justified to us!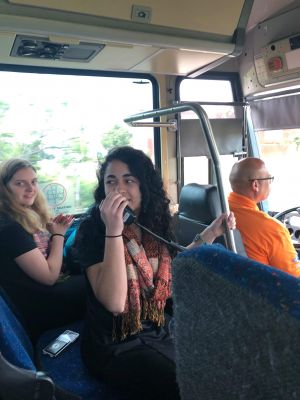 We stopped in a mennonite school called Betania that included levels from pre-school all the way to high school. After our concert in school's church chapel for the children, we were hosted by very delicious rice, chicken, and beans with a vast variety of other side dishes. Our choir had the chance to divide up and interact and play with kids in different grades from the school.
Next, we traveled to Dali's home church, "Iglesia Evangelica Menonita." After some time for rehearsal, we were welcomed warmly with delicious food and dessert. Feeling tired and wet after the rain in Aibonito and traveling,  with about an hour and half of dinner and resting time where voices got to eat and play games, our choir was able to recharge and gather our energy for our evening concert. Becky, Goshen College's president, and her husband Kevin, were able to join us for the evening service and supported us throughout the concert.
Our last concert of the day was one of the best and most fun of all. It has been three days in Puerto Rico and by now although we are all still  feeling the lack of sleep,
I can say we have been able to get used to our schedule and be grateful for this amazing opportunity to be in such beautiful place and transfer our blessings through our singing.
There is still four more days to this tour and lots more to come. Please keep up with our blog to see more!