Students have been busy this past weekend typing furiously and working on the final project. Each person brings a unique idea to the table stemming from writing about food and how it is presented in certain shows to compositions based on particular time periods in London. Yesterday we presented our findings and handed in our last and final homework assignment for the trip.
Here are some specifics about a few of the projects!
In the music concentrated group, Ellie Keener composed four different pieces based on certain places of particular time periods. For example, she used the Globe Theater as an inspiration for secular medieval music. Then, she incorporated elements of medieval music such as the pentatonic scale (only five notes are used) to compose a short piece. Her last composition in the Baroque style was inspired by the embellished architecture of the St. Paul's Cathedral. In her music, she made sure to have many fast notes and impressive turns and ornamentations. Her pieces were amazing to listen to!
For the theater group, Tobias Garcia did his project on LGBT censorship in English art, specifically focusing on theater. He went through a few main periods such as pre-1958 where all plays with gay characters were banned and ridiculed with slang. In 1958, only gay plays that were serious in nature were allowed. An eb and flow continued into the later 1900s and finally plays with characters who were LGBT were implemented into the mainstream culture in the 2000s and beyond, most exemplified by the extremely popular show: Everybody's Talking About Jamie.
Two other theater group members, Jonah Yoder and Kyle Snyder also contributed unique projects.
Jonah did his project on how food is used on the London stage. Jonah stated: "Shows like Waitress and Nigel Slater's Toast feature food as a key element of the production. The main characters use food as a way of expressing themselves and see it as an escape from their difficult realities." The productions also included olfactory and culinary aspects to better engage the audience.
Kyle Snyder researched the British coat of arms and later developed his own coat of arms for none other than yours truly, Goshen College. See picture below: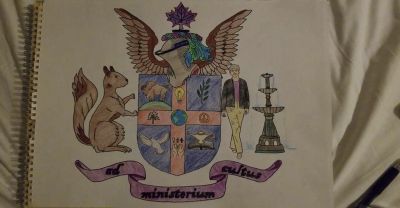 Students involved in the visual arts focus came up with many interesting projects, some of which included impressionist style paintings, jewelry making, and even a conceptual redesign of the South Bank metro station. For sake of brevity, we will only showcase the works of Greta, Dillon, and Denver, who worked with paint, glitter, and graphic design to create impressive visual art. It is also worth noting that some students in this focus did projects focusing on architecture, photography, and creative writing.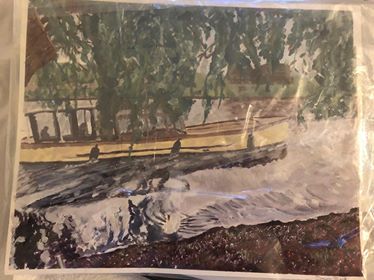 This is the painting that Denver Beck came up with, painting within the impressionist style, which is the style that painters like Monet worked with. Impressionist painting incorporates various colors that combine in splotches to form a picture as a whole – a bit like how pixels create an image on a computer screen. All of the colors used merge and mesh together to create a visual experience, and the variety of colors makes the image visually distinct and interesting to the viewer.
Dillon Hershey did her take on impressionist style with her iPad, combining impressionism and graphic design. Her project was also interesting because she painted neon lights, which would not have been around during Monet's day. Looking at the two interpretations of impressionism, between Denver and Dillon, which is your favorite?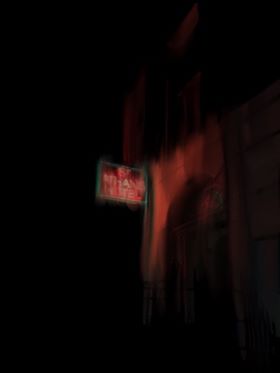 The final visual arts project we will highlight is the work done by Greta, who designed her own jewelry concepts based on her experiences at various galleries around London. She did research on the history of jewelry, and her designs are based on the various movements within the world of jewelry. One of her designs, a spider pendant, is shown below. For her project, though, she created many different designs based on jewelry from all around the world.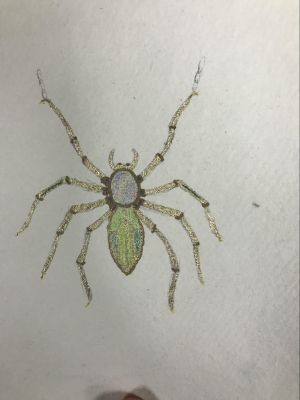 Featured above were just some of the many wonderful projects presented. We are excited to be done and will definitely enjoy these last days in London! Cheers!
Photo: Olivia Smucker (bottom) and Madeline Smith Kauffman (top)