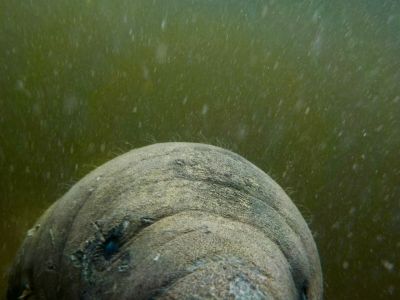 Thursday May 16, 2019
Today when we first woke up everyone was rushing around trying to put the finishing touches on our independent research papers, and powerpoints before eleven when it was time to attend the twelfth annual Marine Biology Science Conference. This time was interrupted by three manatees that decided to swim right up to the boat dock. There were two large manatees and a little baby that loved hanging around. This was the highlight of the day because we all have been longing to see manatees the entire trip and on the very last day they swim right up to us. It couldn't have gotten any better.
Our conference was held in the lab and was a time for each group to share what they had done for their project over the past two weeks. It was very neat to see how all of the different groups projects came together and to finally see all of our hard work over the past two weeks pay off. After the stress of the presentations were over we were then each given a cleaning chore to accomplish so that everything was clean and put away before we leave early tomorrow morning. Once the station was as clean as it was the day we arrived, we had pizza for our very last community dinner as a family then watched a sideshow put together by our amazing TA Luke depicting highlights from the entire trip and had ice cream sandwiches which was a great way to end a great time spent here in the Keys.
– Hannah Myers '21 Biology