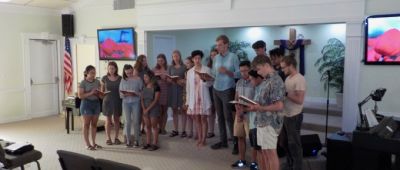 Sunday May 12, 2019
Like last Sunday, our day initiated by gathering as a family and warming our vocals to sing at the local Baptist Church. Although, at the beginning we struggled to sing in sync, by the end we sang quite well for not being choir professionals. During church, the church community showed a video titled "Mom Goggles", to say Happy Mother's Day. The video was quite entertaining, and it did a good job at making us laugh. If you have not watched it, I would highly recommend finding it on YouTube!
Following the church service, we had some decisions to make regarding the logistics of the day. The options were to eat out or stay in for lunch, go to Sombrero Beach in Marathon, Florida or stay back at the station to relax. I decided to go out and explore the area, since we have one more week until we head back to our homes.
Nine of us went to a Cuban restaurant, five minutes away from the station. There we had some very tasty food, conversated about what we usually do for Mother's Day and how lingo has changed over time and admired the ocean view that the restaurant provided. Following, we returned to the station. One group gathered in the van and headed to Sombrero Beach, while the rest who wanted to go stayed behind until Ryan came back to pick us up. The community around Sombrero, Beach was quite delightful. At the beach we played sand volleyball, laid under the sun, and refreshed in the Atlantic Ocean. The volleyball match was very fun! Although, I was not the best player, it was exciting to get into the game and to get better at it!
It was nice to have a day to step back from our research and relax. But, by the end of the night I oddly enough missed sorting through Sargassum and looking for organisms. I was ready to get back to my research about the correlation between Portunus sayi (sargassum crab) and Histrio histrio (sargassum fish) populations in Sargassum communities.
-Andrea Cruz Evangelista, Biology & Psychology, 2021