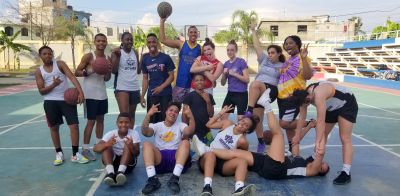 On Friday the students had their first "typical" day: Spanish classes from 9:00-11:30, lunch, and an afternoon lecture or field trip. Afterwards the students will have practice some days, games some days, or go home to their Dominican families.
Classes, lunch and lectures are held at a Mennonite school, Colegio Evangelico Oriental, which also helped us find the families for hosting the students. Because the school's classrooms are all full, our Spanish classes are on the school's top floor, which is not completely finished, but has the best breezes for staying cool in the Dominican heat. The lectures are downstairs in a chapel where a Mennonite church also meets on Sundays. For today's lecture a guest speaker explained and answered questions about how the Dominican economy has evolved from the colonial period until the present, as well as the current major exports and economic indicators. Students had questions about how different financial realities differ from those in the U.S.
After the lecture both teams, basketball and softball, went to different neighborhood locations for practice sessions.