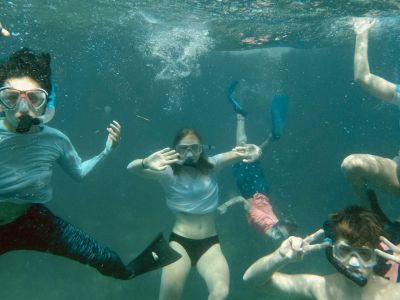 Thursday May 9, 2019
We took a break from our research today and went to the coral reef instead! Since our pontoon would likely made our trip much, much longer, we took at short walk across the street to Keys Marine Lab and were taken out to the reef on two separate boats. The day lasted from 9 am until 3 pm and we were able to snorkel around at three different reefs. The first was a 30 minute boat ride away and called Coffins Patch, a sanctuary preservation area. We swam around with buddies and observed the life present at the reef. Since this reef is a preservation area and protected, fish were present everywhere. Many of us observed Gymnothorax funebris (green moray eel), Scarus guacamaia (rainbow parrot fish), and Abudefduf saxatilis (sergeant major fish) among others.
After an hour and a half of snorkeling, we returned to the boats and took a very short ride to a patch of Dendrogyra cylindrus (pillar coral) in the same Coffins Patch preservation area. Pillar coral is listed as being "vulnerable" because the survival rate of juveniles is low and it is very susceptible to bleaching and white plague disease. At this location, we saw Ginglymostoma cirratum (nurse sharks) and Panulirus argus (spiny lobster). On the boats, we ate our packed lunches before another boat ride to our last site where the reef was in the shape of a donut. We were able to see brain coral and finger coral, however, at this site, there were less fish swimming around at the other two sites, likely because this was not a protected area.
One of the highlights of the day was likely seeing a sea turtle right at the end and for some, being able to swim alongside the turtle and attempt to take photos. The boat ride home was around 40 minutes, during which, many of us began to feel the fatigue set in of being on the water all day.
Back at the station we relaxed, studied for the practical, took naps, and wrote in our field journals before dinner. The evening ended with a lecture on Echinodermata and another lecture on Panulirus argus (spiny lobster). Ariana and I led an activity to simulate the life cycle of the spiny lobster. Each person represented two spiny lobster larvae and in the end, only two lobster survived after predation, disease, and many other hazards.
– Abby Hochstetler '21 Molecular Biology & Biochemistry