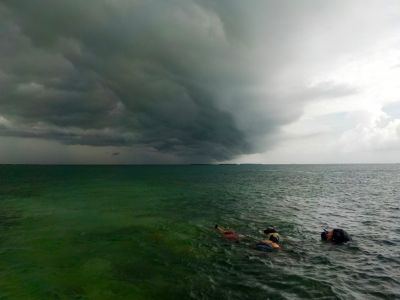 Monday May 14 and Tuesday May 15 – Final research days
The day started a bit slower than usual. Strong coffee was poured into mugs, blistered feet shoved into sandals, and sunscreen slowly lathered into tanned skin. Quietly, we piled into the pontoon, heading out to continue data collection for our ever looming research papers. The boat pulled up into Triton Flats, a mudflat where we have been collecting all of our data. We pulled on our snorkel gear hesitantly, almost as if we'd forgotten what goggles and flippers felt like after being out of the water for a few days. At last, we seemed to regain our motivation and never ending quest to learn as we jumped into the ocean, awakened by the cool, crisp water.
Snorkeling left us with a hefty appetite, so we traveled back to the station for lunch before heading back out into the ocean to collect more data. After our last snorkeling trip of the day was complete, we came back to the station to shower, cook, and devour our dinners. With our bellies full, each of our project groups met with our amazing professor, Ryan, to discuss the plans we have with our data. He gave us wonderful insight as how to represent our data for analysis.
The sun quickly fell, turning the sky into a brilliant purple before it finally disappeared behind the ocean, leaving us in darkness. Lightning brightened the sky, thunder rolled in the distance, and rain began to fall. A few students, including myself, decided to try their luck at catching a nurse shark. Bug spray was layered on, a pocket knife cut into a fish, the fish was hooked onto a line, and the line was cast out over the station's dock. We waited patiently in the rain until the line was pulled taunt. Something was on the line; something big. Fighting with the line, a large nurse shark appeared on the surface of the water. The shark put up a fight, but after 10 minutes, my friend was able to pull the shark into shallow water, where another friend bravely pulled it out by its tail. After gaping in awe at the shark, we took the hook out of its mouth and returned it back into the ocean.
– Keila Flores '20 – Environmental & Marine Science