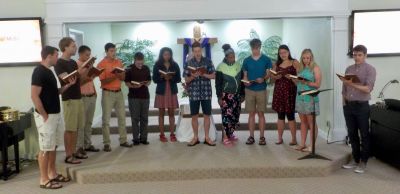 Sat. & Sun. May 12-13, 2018
Saturday students successfully identified 50 marine species of algae, echinoderms, cnidarians, sponges, etc. We needed an afternoon in Key West as a deserved break! Sunday students sang at the church – Happy Mother's Day moms!

After breakfast we had an hour lecture on spiny lobster ecology. After this, we studied for our practical in the lab. We then went upstairs to study to let Joel and Ryan set up our practical test. At eleven, we headed back down to take the practical.
After we finished the practical, we were much more relaxed. We loaded up in our cars and took the hour and a half journey down to Key West. We walked around the town for a while. Different groups went to different places, and visited various places such as fudge shops, ice cream stores, bookstores, and art galleries. We took in the somewhat odd culture of Key West. As dinner time grew near, we all met up as a group and went to a restaurant. We had various food for dinner ranging from dolphin fish sandwiches to quesadillas. After dinner, we went to the boardwalk to watch the sunset by the ocean, and watch the various street performers. After this, we loaded up in our cars again and went back to the station. Thoroughly exhausted, we went to bed before waking up to sing at church in the morning.
– Max Burkholder '20 Biology major