Wednesday May 9, 2018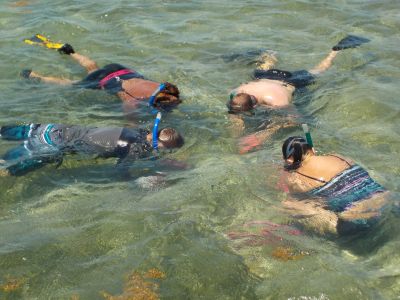 Today was a fruitful but exhausting day. After morning lecture we headed out to the field for the first of our research collection trips. We spent the morning in the field, gathering data and implementing the methods we designed yesterday for our research project. The day was sunny, but windy, which made snorkeling in the shallows a little bit challenging, especially as we tried to gather specimens and measurements. Still, it was a productive morning and we headed in for a quick lunch before the afternoon collection session.
The afternoon session progressed much more quickly as we proceeded with our data collection. One group even finished early enough to get in a exploratory swim with our professor and fearless TA. They explored more of the Triton mudflats and saw encountered many more elusive specimens, such as juvenile Panulirus argus, a large ray, a bonnet head shark and a 3 foot barracuda. Despite some motor trouble, we made it back and had a quick supper before settling down for an evening lecture on the coral reefs we will visit in the next two days and some intense data processing. It was a full but satisfying day that yielded some excellent information for our final projects. Now off to the reefs!
– Lydia Good '19 Education major