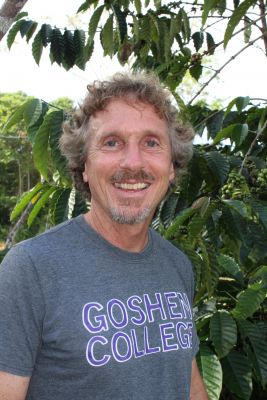 Greetings from Ecuador, the highest nation on the earth's equator and one of the most biodiverse places on the planet. In two days a group of 30 Goshen College students will journey to the capital city of Quito to begin a course called Ecological Economics in Ecuador, or Ec3.
My name is Jerrell Ross Richer, and I live half of each year in the Ecuadorian Rain Forest with my wife, Jane, and our four teenage children. Our work is centered in the Cofán village of Zábalo, four hours by canoe down the Aguarico River. We accompany indigenous church leaders, empower youth and children, and support local community development projects with the help of Mennonite Mission Network.
For the other six months each year I teach economics at Goshen College, including Principles of Microeconomics, Environmental Economics, Introduction to Economic Development, and International Economics. I also teach Global Sustainability and Economics of Sustainability in the Collaborative MBA program. When I am not in the classroom, I enjoy running, hiking, bicycling, backpacking and exploring outdoors.
I invite you to join us on this adventure by following our blog. Each of the students will have a chance to post a reflection during our three weeks in the mountains and jungles that form the eastern boundary of the Amazon River Basin. Enjoy!