Today was another break from our vigorous concert schedule, taken both to enjoy the beauty of the Pacific coast and to move from Albany to Seattle, the location of our next concert. We left Albany Mennonite at about 9:00 in the morning. Our first stop was a short one in Newport, OR, where we took in some breathtaking views on the Vietnam Veterans Memorial Outlook at Nye Beach. When high tide came in and chased us off the shore, we left for another half hour bus ride.
The second stop was in Depoe Bay, OR, a smaller town that draws tourists with its track record of whale sightings. This was another short stop — 15 minutes or so — but it was long enough for a subsection of the choir to climb down and explore the water's edge. Now, Depoe Bay is such a good place for whale watching because the water is very deep right up to the coast. This, in tandem with the jagged edges of the rocks, means that high tide makes for a geyser-like show of waves splashing on the cliffs. The sight is quite awe-inspiring when standing above it. However, for some of the choristers who had ventured down below (a group which did not include your humble author), it was an eye-opening experience, to say the least. I won't name names, but a certain seven-foot-tall member of the bass section was among those who returned to the bus soaking wet.
It was a long two hours to the tourist town of Cannon Beach, OR. This was the longest stop of the day and began with our first food since breakfast. We were on our own for lunch, so most of us opted for Tom's Fish & Chips, a small restaurant near our drop-off point. Despite its being fast food, it was a treat, as eating seafood that fresh was a first for many members of the choir. From there I can speak only from my experience. We had an hour or so to wander on our own and I used all of it on the beach, just walking along the water. It was a good reminder to breathe amidst the seemingly constant action of touring.
We finally got to Seattle Mennonite Church at around 8:30 in the evening after a four-hour drive and a stop for supper. We met up with our host families right away and departed for the night to sleep in preparation for a day of exploration in Seattle and our final concert in the Northwest.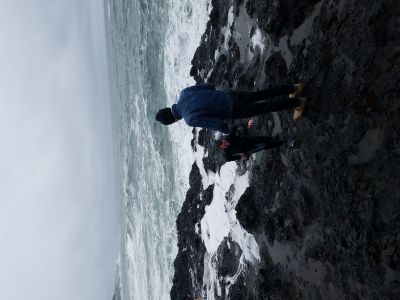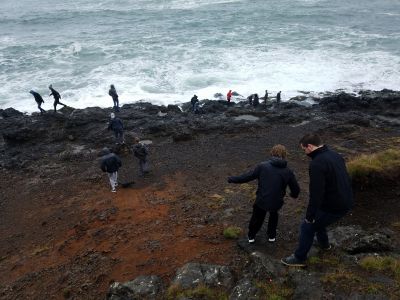 ---