The Goshen College Women's World Music Choir enjoyed full and meaningful days on The Reflections of Light Tour from day one.
Canadian Fast-Food Practices
As soon as we crossed the border into the land of maple leaves and snow, there was a Hail Mary-esque chorus of "Tim Horton's". Like we had to keep repeating the fast food chain's name to atone for our American-ness.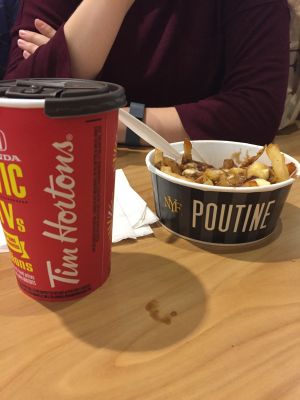 An excursion into a Tim Horton's in Waterloo revealed the most efficient chain breakfast dispensing system I'd ever laid eyes on! An orderly line of patrons shuffled into the building, said "medium double cream", dropped several coins into the cashier's hand, and stepped to the side of the line to immediately receive their coffee and speed-walk out the door. Our host mother remarked that the addition of potato wedges to the menu was really gumming up the works of this well oiled machine: "They should just stick to coffee" how un-American! A proper fast food chain should sell every kind of greasy sandwich, mass-produced mug (with official company logo), and selfie sticks! Canada is finally beginning to realize this.
Canadian Hospitality and Ingenuity
Jokes aside, the Canadians we've met so far on our trip are kind, welcoming, and full of an unobtrusive wisdom. I spent 45 minutes in a tea shop where the owner brewed me three different kinds of tea no questions asked and gave me a free batch of matcha to take home because it had sugar in it. He and his wife warmly shook my hand several times before my departure. I'm convinced that Canadians have required conversation classes throughout their school careers because the talks with our host families and members of the churches sparkled like crystal glassware.
Canadians are also endearingly kooky: our host father, Paul Koop, embarked on a journey of epic proportions to catch the digital wavelengths necessary to display the Academy Awards ceremony on the T.V. in the attic, using only a thick long wire attached to a makeshift antenna made out of a metal coat hanger!
Performances
Sunday morning we performed at Waterloo North Mennonite Church and were hugged and thanked and filled with remarkably good food! "Welcome here" is a phrase we've heard several times and it carries a lot of weight, we truly feel welcomed here.
Sunday afternoon we practiced for our joint concert that evening with the Good Hearted Women Singers, a drum circle made up of the most good-hearted Indigenous and non-indigenous women. Their kind voices and powerful drum beats guided us in the learning of two new songs we would perform together and they shared pearls of wisdom about the importance of sisterhood and community. After sharing a delicious meal, we joined the people of St. Jacob's Mennonite Church and shared a night full of music and good thoughts and feelings.
We had been learning a First Nations' piece, Mother Tribute, but had yet to overcome several rhythm and modulation roadblocks. Singing it with The Good Hearted Women Singers was powerful and they helped us to better understand the piece. They reminded us that music is a wild thing that shouldn't be dominated or analyzed to death, but should be allowed to leap and twist how it wants; our place is to leap and twist alongside it to reach a mutual freedom.