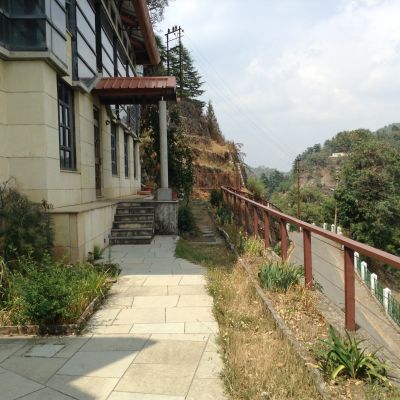 After about 10 days in India, our group can say that above all else, India is a complex place! With a long history that has been at the center of meetings between many different people and cultures, the country maintains a diversity that embodies itself in many ways: in food, languages (hundreds across the country, 4-5 in common use in our state of Uttarakhand alone), religions, and perhaps most of all, landscapes.
A view across the front of our home at the Hanifl Center (elev. 2135m)
We've already in this short time been privileged to hike in a large thorny scrub forest in the midst of Delhi, a location that only several dozen people might visit in a day – in a city of nearly 25 million people! We've also taken several game drives through Rajaji National Park, and witnessed elephant herds foraging there, peacocks in the wild with full breeding plumage out, and a wonderfully high diversity of other wildlife. And we've hiked on the incredibly steep terrain around our home base of Mussoorie. It's been a great introduction to the diverse ecology of this country.
But throughout, we've also learned much about how people shape and interact with the rest of their landscapes. We've seen small forest fires sweeping across nearby hills, as much of India has been under drought for the past 18 months. These fires are aggravated by simplified forest lands that show the signs of plantation-style forestry over the last century. We've seen hillsides where traditional springs of water now often dry out as hillside are deforested. And we've seen villages where crop diversity has fallen dramatically as more households draw their income from work in nearby towns. But we've also seen strong efforts to reforest and diversify worn-out landscapes, to beautiful and powerful effect. We've seen forests whose resources provide much sustenance to nearby villages, but who are also diverse and full of life. These experiences have challenged us to consider how humanity might best live as a part of nature. In that regards, India has a lot to teach the world!