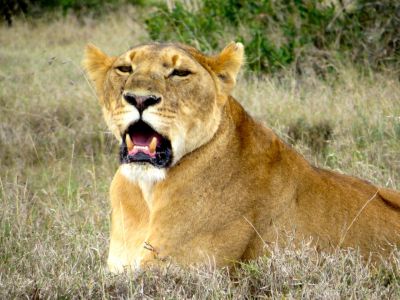 Thursday 15th May, 2014
Today we woke up very early, preparing ourselves for a long journey to Ol Pejeta Conservancy with an aim of exploring conservation and development.
At Ol Pejeta we were given a brief introduction by Giles Prettejohn, the cattle manager of the Conservancy. We learned that it is 90,000 ha and their main objective is wildlife conservation, though they believe cattle can enhance the production of wildlife. This means they have about 7000 cattle alongside their wildlife. We also received a presentation by the staff at the research center. Douglas Kamaru, of the Ecological Monitoring Unit, gave an overview of all their research work – including monitoring the grass composition and populations of various vulnerable species like lion, hartebeest, oryx, and wild dogs.
Later we began going around the Conservancy where we saw very many types of wildlife. These include the warthog, (the ugliest animal!), jackals, Thompson's gazelle, rhinos, zebras, lion and so many others. We saw many amazing things including how the warthogs graze while kneeling, this made us laugh throughout the whole trip. Another amazing thing is how five jackals, as small as they are, tried to chase away a herd of buffalos and impalas, but they didn't manage to catch one. We took our packed lunch at Ol Pejeta restaurant where we had a chance to see a blind rhino named Baraka. Baraka became blind while fighting with another rhino. Finally we went to see chimpanzees – chimpanzees or humans – all of us wondered because they behaved like humans the way they sat down basking and also caring for their young ones. This made me believe that we are closely related!
Lastly we went to Sweetwaters hotel where we had a bottle of soda each and enjoyed the cool environment as we took photos. Thanks!
Charity Mutanu Raphael, Nairobi University, Range Management 2016