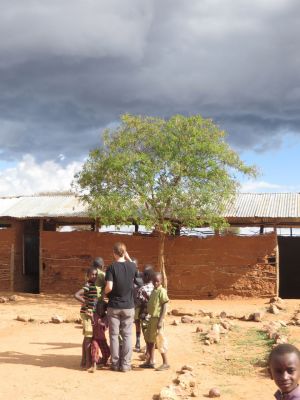 Wednesday, May 14th, 2014
Today was a full day with an interesting variety of experiences. This morning we visited Mogwooni cattle ranch and met with the manager and owner, Jackie Kenyon. Here we were exposed to a different view on land management. Jackie  produces high quality Boran cattle which are considered to be some of the best throughout the world. We discussed his methods of management, which include exclusion of wildlife, burning and charcoling to maintain high grass quality, and movement of his cattle to various paddocks to prevent overgrazing. This was interesting to hear since we so-far have mainly been exposed to ranches which promote coexistence between cattle and wildlife.
In the afternoon we visited Lekiji School, which teaches students K-8. Our visit was hosted by Wilson, a Field Assistant at Mpala Research Centre who helped us learn about the Conservation Club there that is supported by Mpala. The club is lead by some people from Mpala who teach kids about conservation by playing games, doing mini experiments, and teaching them about how protecting nature can improve their own lives.
However, we gained so much more than an understanding of the program. We met with the head teacher (principal) and later got to interact with the students. The head teacher emphasized the school's motto that although one may be poor from an economic standpoint, they are rich in the mind. The school rooms were made of mud and stick walls with tin roofs. This is one of the poorer schools in the area but the students and teachers motivation was very apparent. When we first saw the students they seemed quite shy at first, as were we. Meeting new people can be intimidating! As we began talking with the students some of the shyness was still there but they became more relaxed. Children started taking pictures with our cameras, telling us their names, and talking to us in large groups.
I went over to a group of girls, and after some initial difficulties in conversation, remembered the power of music. I suggested that they teach me a song and a little while later a large group of students had gathered around and were singing songs for us! It was humbling to hear them sing about being happy and thankful even though they have lived through so much already. Before we left we sang a few songs for them in return. This experience was an honest example of the power music has to bring people together.
We concluded the day relaxing, playing soccer, reading, and eating a delicious dinner.
Morgan Short – Environmental Science, GC 2017