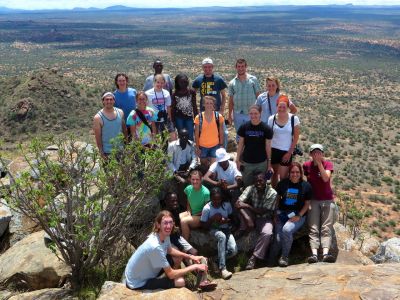 Saturday and Sunday May 10-11, 2014 
Over the weekend we were able to catch up on some much needed sleep and relaxation after a week filled with hours of field work. On Saturday we had a late breakfast at 8 am and spent the morning reading, catching up on home work, and playing cards. Shortly after lunch we gathered in the vehicles and headed to Mukenya, which is a granite rock structure formed because the hard granite is less susceptible to erosion than the earth around it. There are many of these formations throughout Kenya.
The hike up the formation took about 20 minutes and at the top we were able to gain a new perspective of the savanna system that we had been studying for many days. From up there the trees and grasses looked much more spread out and open compared to on the ground where things often looked dense and compact. Eventually we made our way down and spent the rest of the evening relaxing at the river camp.
On Sunday we had a similar morning with a late breakfast and relaxation. In the early evening, about 5 o'clock we headed to baboon cliff. There is usually a waterfall going over the cliff in the rainy season but there has not been enough rain yet for this to happen. As we were peering over the cliff and taking pictures someone spotted a group of baboons coming toward us, so we simply stepped aside and they scaled across the cliff and then gathered at the bottom. We were then able to look down at them and observe their behavior. Some were caring for their young, others were playing together, and one kept climbing part way up the cliff staring at us with suspicion. Overall it was a great weekend filled with relaxation and exploration of different parts of the ecosystem.
– Aaron Stiffney – Environmental Science – GC 2015