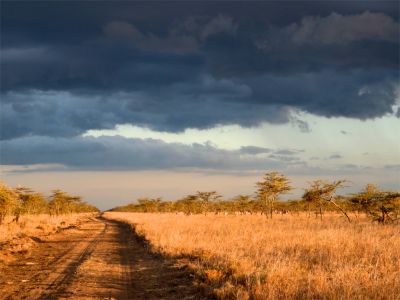 May 1-2, 2014
On Thursday morning we made the 4 hr trek from Nairobi to the Laikipia region of Kenya, which is in the western rainshadow of Mt. Kenya. We enjoyed lunch at the River Camp which will be our home for the next 12 days (later we'll move to the dorms at Mpala Research Centre).  At the river camp we are living in permanent tents situated along the Ewaso Nyiro river and each morning we awake to the splendor of all manner of bird songs. Nights afford stunning views of the Milky Way and the laughing whoops of hyenas which roll across the hills.
Friday morning we hit the ground running, heading to the field early to gather pre-burn data for a burn we hope to do on Saturday.  The long rains are late here in Laikipia this year, so we arrived to dry grass and perfect conditions for a prescribed burn. Our first set of field investigations includes assessing how fire affects the mutualistic ants that live in the Whistling Thorn trees.  These ants help defend the tree from browsers like giraffe and elephant. Students clipped the swollen thorns in which these ants reside in order to estimate pre-burn densities of ants – we'll return later to assess how they faired after the fire.
The remainder of the day on Friday included preparing the burning equipment and getting ready for the big burn day on Saturday. The cool of the night returns each evening and creates some of the best sleeping conditions you can imagine – and the rest is welcome after a hot day in the field.
– Ryan for the team