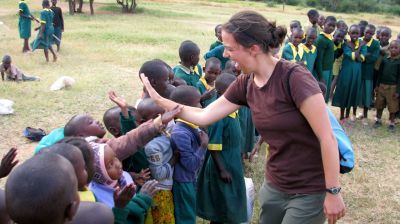 Although it started out as another day in the field, Friday was a day full of many exciting events. In the morning we returned to the KLEE plots to take more data on acacia tree-ant dynamics. Our drive back to the Research Centre for lunch turned into an unplanned game drive. We left the main road to get a closer look at a herd of oryx (our first siting of the trip) and, on the way, entered a large glade where we also had the privilege of observing zebra, impala, an ostrich, and a distant running eland. Back at the Research Centre we once again spent an hour or so counting hundreds of scurrying and biting ants.
In the afternoon around 3:00, we visited the Mpala School, which has about 70 students who are the children of the staff and workers at the Mpala Research Centre and the Mpala Ranch (connected but separate organizations).  As we drove up, the children, who were done with class for the day, were milling around outside and staring curiously yet shyly at us. The teacher of Standard II (equivalent of second grade), who was also the Assistant Deputy of the school, took us on a tour through several classrooms.  Each small room served 4-6 students and was decorated with a variety of posters, hand drawn maps, and vocabulary and grammar lists (many in English, but also some in Swahili). We then all gathered together outside on the lawn and several of the classes, from the preschoolers to the Standard V performed short songs for us. In response, we sang (not very well) for them the Kenyan national anthem, which our Kenyan classmates had taught us American students earlier in the week. Then we college students performed the Macarena and, much to my surprise, all of the Mpala students did the same!
After that very enjoyable visit, our drive back to the River Camp was made very exciting by a herd of elephants crossing the road right in front of us! We turned off the vehicles and sat and observed them grazing and browsing for several minutes! Also on our leisurely drive home, we revisited the Hippo Pool, where we met a team of beekeepers who had come to collect honey from the many hives that hang from trees along the river. They were very friendly and let us all sample some of their delicious honeycomb from a giant 5-gallon bucket that they had with them.
Our campsite enjoyed a late afternoon rain that left the air smelling clean and very refreshing. By the time the sun had set, the clouds had begun to clear and reveal a smiling crescent moon and sky full of glittering and endless stars. Under this celestial light, we embarked on a night game drive that was extremely rewarding.  For a long time, we saw barely any wildlife, but then, up at the open airstrip, we saw a …. drumroll please… simba! (Swahili for lion). The lion was first spotted peering through the grass at our vehicles driving by, but then turned and trotted back into the bush as we trained our lights on him. We were extremely lucky in this sighting because, although lions live on Mpala, they are very rarely seen All in all, it was a wonderful end to our first full week here at Mpala. – Leah Amstutz, Biochemistry Major, Goshen College