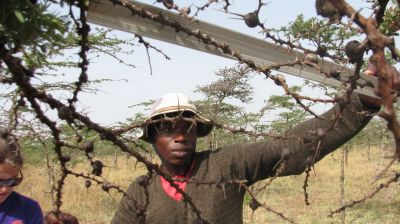 It is a good day as usual, the morning birds woke us up and they are singing as we have our breakfast. The morning feels fresh as I look through the landscape of Laikipia, the acacia trees standing there and the long different grass species wagging around gracefully.
All the way to the field we meet tens of elephants grazing and browsing unaware and undisturbed by our presence, the impalas jumping along the road, the birds flying in front of the car and the zebras staring at us. How beautiful nature is!!!
Do you think you can count ants on and in a tree? I guess you thought it is too hard or complicated to be done. It can be done and we did it today. It wasn't so much fun because of all the thorns but it felt good when its done. As we try to clip the ant galls and the ants come out swarming and fighting us just shows how all organisms try to protect what they consider theirs. Being in the field is the best feeling of being in touch with nature.
At the fire place later in the evening, discussing the moments of the day makes us forget everything and laugh our hearts out. Everything of the wild is so relaxed and it's a lovely the place to be. – Beryl Makori, Junior Natural Resources Major, University of Karatina