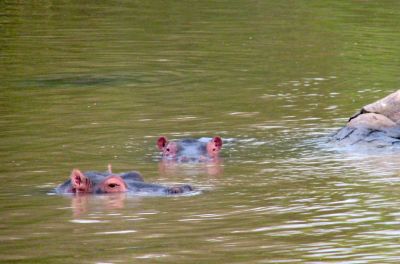 Thursday, June 6th, 2013
Our first day at Mpala Research Center was a rich experience, every minute holding new excitement as we got to know each other and the place we will be calling home for the next few weeks. We woke up in our tents at the Ewaso River Camp to a morning full of light and life. Birdsong filled the air, and for many of us these songs were entirely new. Since we had arrived after dark the evening before, we got out first glimpse of the camp and the muddy river it sits just above, as well as the rolling savanna which spreads out in all directions. The wonderful camp staff served a hearty breakfast, and we had a relaxing morning, nothing scheduled except getting to know each other and the camp, as well as going over the class syllabus and schedule. Some highlights of the morning included finding large tortoises, parrots, hornbills, and a Nile Monitor lizard nearby or in camp. Impromptu lessons in Kiswahili also occurred; the four Kenyan students in our class are excellent and patient teachers. The Goshen contingent has started keeping lists of words and phrases that are relevant to daily living, i.e. "nataka kahawa" which means "I want coffee," as well as learning the names of Kenyan animals such as giraffe (twiga) and zebra (punda milia).
Lunch was delicious beans and meat over mashed potatoes, as well as cooked greens, and was followed by an hour or two of tea sipping, journal starting and reading for our first discussion. We were simultaneously able to soak up some good, warm, equatorial sun (Mpala is just barely north of the equator). In the midday and afternoon, it seems best to stay relatively sedentary to avoid overheating, so we took time under the shade to have our very first lecture/discussion, centered around several questions: What is the "pastoral controversy," what are savannas, what forces of nature make them what they are, and how can we find the middle ground between different proponents of savanna land use? We now know about the intertropical convergence zone and how it creates bimodal rainfall patterns in Eastern Africa, and I think most of us also agreed that views that propose only human or only wildlife use of savannas are too simplistic. This course will focus in part on how scientific understanding of savanna ecosystems can help us bridge this divide, and we will do so by reviewing some of the important scientific literature that has been produced from long term studies at Mpala and other savanna systems, as well as reading "the book of nature," or getting to know the plants, animals and people that call this place home. Our field notebooks will be used to collect data, record hundreds of species accounts, and reflect both academically and personally about all that we are taking in. In a time and place where so much is new and exciting, it can feel intimidating, nigh impossible to try to fit it all in a single notebook, but it is one way of starting the process of inquiry and connection that is so critical for a field biology course.
To end the day on an adventurous note, we took our first game drive as a class group in the 9-passenger van and the land rover. We explored various areas and habitats within Mpala, and were excited to see numerous species of large animals, as well as some fantastic plants, insects and birds.  First, we headed towards the hippo pool, actually a bend in the river where hippos wallow during the day before coming out to graze on nearby lawns at night. Numerous hippos were in the pool, and we could see their large heads and jaws above the muddy water. Occasionally one would let out a very loud grunt. Further up the road, we came very close to a small herd of elephants that included several youngsters. During the rest of the drive, we saw many giraffe, an African Buffalo, Thomson's and Grant's Gazelles, Impala, Plains and Grevy's Zebra and Dikdik, a small monogamous antelope. Up at the airstrip, surrounded by grassy plain, and rolling savanna all around, we watched storm clouds in the distance and the sun setting the sky ablaze with color as it made its way to shine on another part of this great green Earth. Truly this was a day to remember, and as we now sit writing or reading in our tents or around the fire, we look forward to the continued revelation of nature, greater perception and knowledge,  and new and continued friendships that this experience is sure to foster.  – Josh Yoder, Senior Environmental Science Major, Goshen College