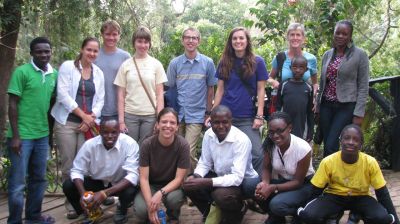 The 2013 Kenya course in Conservation and Research Methods in Savannas is underway!  All the students arrived safely in Nairobi on Tuesday and Wednesday morning.  Will and Ali get the award for most determined travelers after weathering a 10 hour delay in Amsterdam.  They arrived Wed morning in time for a shower before joining us to head north to Laikipia!
In addition to the 6 students from Goshen College – four students from Kenya are participating in the class too.  Eric and Hannah, two Kenyan undergraduates from the University of Nairobi, met us at the Mennonite Guest House on Wed. morning to join us for the 4 hour drive to Nanyuki.  On the outskirts of town we met Duncan Kimuyu, a collaborating Ph.D. student who also teaches at Karatina University, and his two students Beryl and Dedan.  We all enjoyed lunch together at the Trout Tree restaurant, with the occasional visit by Black and White Colobus monkeys.
Along the way we experienced a bit of vehicle trouble – 2 tire flats on the mini-bus and a loose wire on the Landrover – which delayed our arrival to Mpala Research Centre.  However, this afforded a brilliant display of wildlife on the drive in, with giraffe, impala, zebra, and dik dik huddled in the open glades.
After a warm welcome from the MRC staff, we enjoyed a hot dinner before turning in for our first night.  We are all grateful to be hear and stunned with the beauty of wildlife and the hospitality of the community.  – Ryan Sensenig, Associate Professor of Biology, Goshen College