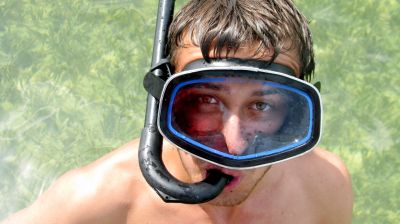 The morning began with a lecture on Marine Protected Areas with discussion between Dave (policy) and Ryan (ecology) as a way to emphasize that the attributes of a particular natural resource determine how it should be managed.  Since many species in marine systems travel 100's if not 1000's of miles as adults (or larvae), the protection of key breeding grounds (like coral reefs and seagrass beds) can have far-reaching effects.
After a rousing discussion (yeah it was that great, says Dave O.), half the students went to Old Dan Bank and the other half to Triton Flats for more data collection. The Old Dan Bank group enjoyed swimming with some very large tarpon, which seemed curious to check out what we were doing (see photo).
In the evening we walked over to Keys Marine Lab for a visit with a PhD student from University of North Carolina, David Ernst, who is studying how spiny lobsters navigate using the earth's magnetic field.  We learned how spiny lobsters use the earth's magnetic field to navigate back to their dens and to complete annual migrations to deeper water in the fall when the water gets too cold in the Bay.  David showed us an apparatus they use to create a magnetic field that can mimic any location on the planet.  By placing a lobster at a different magnetic place, he can measure how the lobster orients itself to return home. Fascinating research.
We ended the evening with an ice cream celebration thanking Dave Ostergren for his mentoring, teaching, and boat driving!  He leaves in the morning to return to Goshen.
Tuesday will be the final day in the field, and Wednesday and Thursday will include a final exam and completion of the final research papers and data analysis.  We'll leave for home on Friday morning…. time flies!