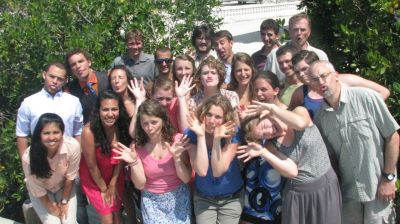 The 2013 trip to Layton FL, marks the 47th year of the Goshen College Marine Biology program. HOw a school in Indiana began a program in the Keys is a long story – a key part of that story is the invitation by Del Layton (the Layton founder and mayor) for Goshen College students to sing at the Layton Baptist church.  The community was so impressed with the singing, that Del Layton invited Goshen to move its marine biology program to Layton.  (The picture to the right is after church, with each person pretending to be their favorite sea creature.)
Ever since then, Goshen College students have a tradition of singing several hymns at the church.  Mother's Day Sunday was no exception.  After church several of us went to Islamorada for lunch (Ryan and Dave treated the Teaching Assistants for their hard work!).  In the afternoon some students rested while others went to the beach.
Sunday night we went on a night snorkeling trip to a hardbottom site next to Lime Tree Bay.  Night snorkeling is a prime time to see spiny lobster, fish, crabs, and all manner of life on the prowl – foraging under the relative safety of darkness.  It is also an amazing opportunity to view bioluminescence – the glowing, shimmering, light created by phytoplankton (and many other creatures) when the water is disturbed.
At 10:00 we told the story of the development of the GC Marine Biology program as written by Duane Kauffman.  You can enjoy the same story by clicking here to download your own color pdf of the history.