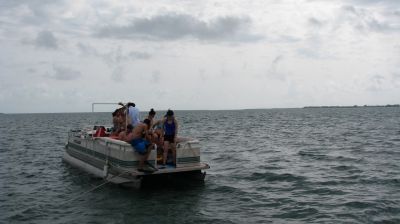 It is official, the 47th Goshen College Marine Biology trip is underway!  Twenty students and two faculty arrived safely at the J.N. Roth Marine Biology station in the Florida Keys on Tuesday.  We spent Tuesday evening unloading, unpacking, and un-winding after many hours of traveling.  After a warm meal of spaghetti and french bread, we gathered in the lab to discuss the course structure and schedule.
Wednesday morning, after a lecture comparing marine systems to terrestrial systems, we headed to the field for our first snorkeling trip.  Students practiced their data collecting skills, while collecting samples of various algae, gastropods, echninoderms, and all manner of marine life.   The afternoon was spent sorting, sifting, and identifying the specimens we found (all of which will go back to the sea when we are finished).
In the evening, we had a second lecture on the taxonomic characteristics of protista, including attention to the brown, red, and green algae.  It was a long day and everyone is ready for a good night sleep.
This year the course is being taught by Ryan Sensenig (Biology) and Dave Ostergren (Merry Lea Environmental Learning Center).  We look forward to sharing our stories and perhaps hearing about your ventures in marine biology exploration.
– Ryan on behalf of the 2013 Marine Biology course