Carol Ann Carter
Eric Yake Kenagy Visiting Artist 2007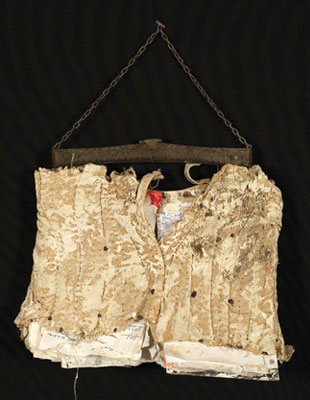 Works by the 2007-08 Eric Yake Kenagy visiting artist, Carol Ann Carter, professor of art at the University of Kansas will be on display.
Carter's creative work which began in intaglio printmaking, advanced to mixed media painting and fiber construction in 1984. She is currently working in multimedia installation - performance, mixed media and digital imaging and video. Carter is also interested in collaboration across cultures and disciplines in the arts.
Of her work she states: The objects and spaces I utilize, suggest the creative field in which I play my work. It is a field of art and design where I practice movement and exchange of elements across boundaries. I am motivated by the dialogues among materials, intelligence or disciplines-by a kind of character conversion where one thing influences or develops by virtue of occupying space with another: red and green pigment meant for a painting, find their way to a chair...or when foot pain assists, over time, in the development of a shoe form. The field for these considerations--for this activity-- is wide open."
Carter was born in Indianapolis, Indiana. She received her Bachelor of Fine Arts Degree from the Herron School of Art of Indiana University, and her Master of Fine Arts from the University of Notre Dame.
The reception for this exhibit will be held on Sunday, Oct. 28 from 8 to 9 p.m., following her Eric Yake Kenagy Visiting Artist lecture at 7 p.m. in Rieth Recital Hall, Goshen College Music Center. The exhibit, reception and lecture are free and open to the public. The exhibit will run through Nov. 29.